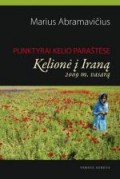 Authors: Abramavičius, Marius
Published on: 2010
Publisher: Versus Aureus
M. Abramavičius is a famous Lithuanian photographer, artist, writer and traveler. He has visited a lot of countries and written some books about his travels. One of them – "Dotted line in the margins of road: a journey to Iran 2009 Summer". This book is like a diary of that journey,  which gives you a chance to forget all stereotypes and see the country Iran in a different way.
M. Abramavičius with his friend went to Iran via Georgia, Turkey, its border with Armenia and came back via Azerbaijan. They moved away from their comfortable homes, they left their families and friends. They met an unfamiliar culture and saw different landscape and faced some strange rules. This book picturesquely tells about Iran's history, traditions, lifestyle and daily routine. Also it reveals that Iranians are very friendly and hospitable people and this country is not deserved to be called The World Axis of Evil. More