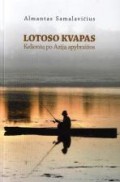 Authors:
Samalavičius, Almantas
Published in:
Vilnius
Published on:
2011
Publisher:
Vilniaus pedagoginio universiteto leidykla
The book presents travels through Buddhist countries, especially to the places where hardly any tourists are around. It tells picturesque stories about visited cities, villages, sanctuaries and their architectural features. Also, during the trip there are observations about the local inhabitants' behavior and mentality, which is influenced by the local form of government and religion (Buddhism/Islam). Topics about work, education, hospitality and goodwill of people are considered as well. Every country by visited Samalavicius' is pictured by emphasizing a few important stages of country's development: short narrative about emergence of a country, changes of names of cities, some statistical data and myths. Therefore, after reading the book, it is easy to discover the economic, social and political differences of the mentioned countries.
The reader of the book is introduced to another, however, this time disadvantageous process of archaic cultures – globalization. There is a great deal of damage that the tourism market development might cause to aforementioned authentic cultures. It is clear that the destruction of authentic landscape and customs, as well as transformation of local traditions cause homogenization of cultures. In this way, genuine and fostered since the old times values are permanently destroyed. There is no doubt for what reasons the topic of globalization is emphasized. A. Samalavicius gives as a warning of rapidly growing destruction of cultures, not only in the Western countries but in Southeastern and Far East countries as well.
The format of the book draws reader's attention for its attractiveness. There is a plenty of photographs (author's personal archive), a variety of different colours is dominating. It is like a mysterious choice, most likely with the symbolic meaning. That is why we can see, that author reveals subtleties of East cultures not only trough text but by the design book as well.
Those, who are interested in philosophy of Buddhism, Buddhist worldview, architecture and culture of the region, the book by Almantas Samalavicius "Lotoso kvapas. Kelionių po Aziją apybraižos" will lead into the mystical Eastern world. Despite destroying powers of globalization, great respect to traditions, religion and heritage of wisdom is still flourishing there.
Almantas Samalavicius – historian of culture, critic, essayist and doctor of humanities (art criticism) who wrote a book "Lotoso kvapas. Kelionių po Aziją apybraižos", published in 2011. This book presents plenty of texts that were written while traveling throughout Eastern countries, mostly those of Buddhist culture. These countries are Burma, Thailand, South Korea, Japan, Malaysia and its part of Borneo island, where religion of Islam is prosperous. The author, who is clearly aware of his belonging to European cultural tradition, submits personal culturological insights and observations about daily routine, history, religion and worldview of Eastern cultures, from the point of view of an ordinary traveler.