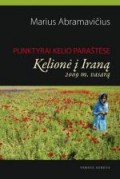 Authors:
Abramavičius, Marius
Published in:
Vilnius
Published on:
2010
Publisher:
Versus Aureus
M. Abramavičius is a famous Lithuanian photographer, artist, writer and traveler. He has visited a lot of countries and written some books about his travels. One of them – "Dotted line in the margins of road: a journey to Iran 2009 Summer". This book is like a diary of that journey,  which gives you a chance to forget all stereotypes and see the country Iran in a different way.
M. Abramavičius with his friend went to Iran via Georgia, Turkey, its border with Armenia and came back via Azerbaijan. They moved away from their comfortable homes, they left their families and friends. They met an unfamiliar culture and saw different landscape and faced some strange rules. This book picturesquely tells about Iran's history, traditions, lifestyle and daily routine. Also it reveals that Iranians are very friendly and hospitable people and this country is not deserved to be called The World Axis of Evil.
What is more, this book can make you forget everything what you have heard about military conflicts and penury  in Iran. M. Abramavičius opens the magnificent doors into "A thousand and one night" fields where you appear in the bazaar of strange stuff, where you can see the mysterious eyes of the vendors and the air smells like almond and muscat while you read his book about the journey. Moreover, all photos, which are in a book, make everyone feel as if they travel in this charming country. Furthermore, there are some verses and funny local histories. Here is one of them.
Nasreddin is walking around his house and sprinkling crumbs. His neighbour asks:
    – What are you doing here?
    – Don't you see? I'm traying to make tigers scared, –  Nasreddin says.
    – But there are no tigres!
–Effective, isn't it?
In this book a reader has a great look at the economy, politics, the status of men and women, clothes, lifestyle and history of Iran. It also helps to look at the world from a different perspective, into unknown places and to understand that stereotypes are just stereotypes. The book should be liked by those people who also like the works of A. Čekuolis because both of them are similar by their appreciacion of really valuable information and they can present it very scenicaly and not boringly. The book  "Dotted line in the margins of road: a journey to Iran 2009 Summer" by M. Abramavičius is good for those who are interested in cultures, looking for something new and not thypical, who want to open their eyes and fall into a different Iran.