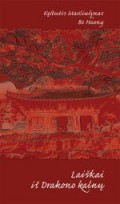 Authors:
Marčiulynas, Kęstutis (Bo Haeng)
Published in:
Vilnius
Published on:
2011
Publisher:
Fortus Vita
Life in the monastery is always full of new discoveries. Not talking about the country which for some of us could look like a strange and unknown part of the world. Of course, it is also important to mark that the rules in the monastery seem to be even stricter than anywhere else.
One of the most important things is the fact that the book is not about boring everyday life what would just make it a diary. It is even more than anybody can expect. At first it is an interesting and breathtaking story influenced by simple everyday life as a newborn monk and secondary it an amazing lesson of Buddhism ideology and understanding of the world. Every part has its own deeper meaning.In conclusion I would like to say that a man in a path of Buddhist monk has gained a great knowledge which is shared in a simple and easy way. In the book cultural differences between Lithuania and Korea is also unwrapped and displayed in the simplest way as possible by letting the reader to understand it fasters without putting too much efforts.This book is really worth to read if you ever found yourself interested in East Asian and religions all over the world and have never lost that curiosity.