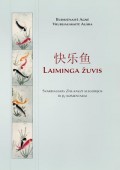 Authors:
Budriūnaitė, Agnė, Vrubliauskaitė, Aušra
Published in:
Kaunas
Published on:
2010
Publisher:
Vytautas Magnus University Press
In this book we are presented with one of the most influential texts of Dao – "Zhuangzi" it's most important allegories and their commentaries. Authors, Budriūnaitė Agnė and Vrubliauskaitė Aušra seek to introduce readers to Zhuangzi which is a text that helps one to seek understanding in Dao, while still being an actuality to the day. Book has twelve chapters, each presenting us with many different allegories and their commentaries of many differing sources.
Book presents us with excerpts of the ancient text, each of which helps us to deepen our understanding of Dao and truths of life according to the author of Zhuangzi – Zhuang Zhou. After each excerpt we are presented with commentaries and descriptions of them. These commentaries are based on translations and commentaries of various different authors and interpreters of the particular text. Here we also get an introducing glance to text, context, bibliography and names of places as well as people in Zhuangzi.
Even though the book is mostly only allegories and commentaries of them, each helps us deepen our understanding towards what is Dao. Excerpts for the olden text has a deep and very distinct implications that imply that everything is going its own way as well as many, other varied truths. Texts presents us with mystification of life that is reversed with strange and loopy logic at the later mention in the same excerpt. This logic, seemingly loopy and yet impeccable seems both, so easy and incredibly challenging to live by. Each commentary explains the fundamental concepts of Daoism, talks over the biggest philosophical problems and allows us to personally delve into truths that are present in the book. Authors dedicate the book to students, lecturers and all of those interested in Chinese philosophy. It grants us materials for deeper studies of Oriental philosophies and promotes deeper studies of Asia.