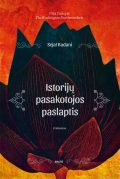 Original language:
English
Translated from:
English
Authors:
Badani, Sejal
Translated by:
Banelytė, Antanina
ISBN:
9786098233360
Published in:
Vilnius
Published on:
2019
Publisher:
Balto
"The Secret of a Storyteller" is a story of a woman who, in order to run away from her problems and mend the pieces of her broken heart, goes on a trip to her family's homeland India. However, even here she faces with family secrets that have never been revealed before.
Jaya is a journalist born to a family of immigrants from India and living in New York. After having her third miscarriage, she finally breaks down, her relationship with her husband Patrick completely shatters and they decide to separate. Suffering from an unbearable feeling of loss and no longer knowing her further path, she visits her parents. There she learns that her grandfather is dying in India and wants to give a final gift to Jaya's mother, Lena. But Jaya's mother refuses to visit her father in her home country because of a painful past that her daughter knows little about. Jaya then decides to embark on this adventure herself, thinking she will be able to learn more about her family's past and escape the ever-afflicting grief.
When Jaya goes to India, she learns that her grandfather has recently died, but she is met by Ravi, a loyal grandmother's servant. He says that before handing over her grandfather's property, he has to tell her the story, as promised Jaya's grandmother before her death. The story takes her back to the family's past, and more specifically to the life story of her grandmother Amisha.
Amisha, who lived in British-ruled India, already had a social role chosen for her by society – to be a good wife to the husband chosen by his parents and a good mother. But she always wanted so much more. Having a creative mind, she writes made-up stories and longs to learn English, so that she could write it in English too. The British set up a school in her village and here she meets Lieutenant Steven, thanks to whom she can learn English in exchange for teaching children to write stories. Eventually, Amisha starts feeling a connection with Steven, as he understands and allows her to be herself by creating and dreaming. However, her conscience is constantly agonized by thoughts of abiding to traditions, societal norms, and responsibilities to her family. She wants to compose stories and love Stephen freely, but understands that this is not possible.
Amisha's story and the truth about her mother's past changes Jaya's outlook to relationships and life. She finally understands the burden of the past that her mother carries and takes a new look at the importance of love and choices in her life. It is like grandma's priceless legacy that encourages her to overcome her current difficulties and try to start life anew.
"The Secret of the Storyteller" is a book in which the author not only tells the life stories of people from different periods, but also describes Indian culture and customs, which sometimes restrict or deprive people of the right to choose their own way of life. The author also adds a piece of her own family's history. Her own grandmother died the same death as Amisha, when she was bitten by a mosquito and got encephalitis, but was thought by the local community to be possessed, tied to a tree and tortured until she died. Sejal Badani, an American of Indian descent, who is a law graduate, quit her profession and became a writer. She is a finalist for ABC / Disney and CBS Writing Societies, the author of the bestseller "Trail of Broken Wings", and a finalist for the Goodreads Fiction Award.