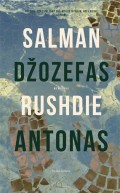 Original language:
English
Translated from:
English
Authors:
Rushdie, Salman
Translated by:
Šorys, Albinas
Full translated source bibliographical description:
Rushdie, Salman. Joseph Anton. Jonathan Cape: 2012
ISBN:
978-9955-23-747-1
Published in:
Vilnius
Published on:
2013
Publisher:
Baltos lankos
This is a book of memoirs, which tells about the period when a writer Salman Rushdie was threatened to death (it is called fatwa) by the political leader of Iran because of his book "The Satanic Verses",  which was accused of being against Islam, the Prophet and the Quran. Joseph Anton was the writer's pseudonym during his hiding period, which was created by making combination from his favourite authors' Chekhov and Cornado names. In the first chapter of this book S.Rushdie briefly but also very catchy, engaging and interesting tells us about the period from his childhood in India till his studies in Great Britain. The majority of this book is devoted to the period after "The Satanic Verses" was released. Writer's goal was not to tell his life story. His pursue was to show how many people wanted to ruin his life and no matter of all unpredictable circumstances, he managed not to give up.
In this book, the writer talks about himself from the side. All facts in memoirs are written chronologically and in details. In the second part of this book there are lots of broadcasts excerpts, letters and citation from newspapers. Relations with his family, wives and friends are written very openly and in details. S. Rushdie skillfully and nicely conveys both his feelings and thoughts and also try to be as sincere as possible even for talking about the mistakes he is ashamed about.
The portrait of the writer in this book seems various. Sometimes he looks quite egoist, narcissistic or arrogant but at the same time – very reliable, creative and sincere person. The author of this book wanted to show that it is not only about fighting for the "Satanic Verses" and the personal freedom, but also for the right to write whatever you want and not to be afraid to say your ideas and thoughts.
What is more, there are lots of stories in this book about the writer\'s other published books, where he tells about the inspiration for his works and about the success of his works. Therefore, there are also some episodes of talks with famous writer Gabriel Garcia Marquez, meetings with writers Susan Sontag and Gunter Grass. S.Rushdie also very nicely writes about the period when he was moving from one house to another to stay alive, also about his fighting for the right to participate in his own book premier and about his family, love and kids.
Only in 1998th the Iranian government refused fatwa and death threats for the writer Salman Rushdie. Finally, now the writer can live as a free and independent person.
Salman Rushdie is a novelist, essayist, critic, one of the most famous writers of the twentieth century. His second novel "Midnight\'s Children" (1981), won the Booker Prize. He has also received eight honorary doctor titles and was elected as a fellow of the Royal Society of Literature. Queen Elizabeth II knighted him for his deserts to the literature.