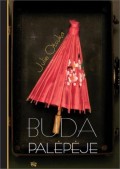 Original language:
English
Translated from:
English
Authors:
Otsuka, Julie
Translated by:
Ferdmanaitė, Emilija
ISBN:
978-5-415-02326-4
Published in:
Vilnius
Published on:
2013
Publisher:
Vaga
"The Buddha in the Attic" – is a novel written by Japanese American author Julie Otsuka in 2011.  It is her second book where readers are introduced with Japanese people , who left their motherland after the war to overseas countries, life stories.  Life of Picture Braids is a main story in this book.  This term refers to the marriage practice in the early 20th century of immigrant workers in United States selecting brides from their homeland. Parents sells or gives away their young daughters believing that marrying a rich and handsome man introduced just from the picture, they will live a better life than in Japan.
The eight-chapter novel is outstanding not only about the subject, but also its distinctive features. The time period is expressed not through character age, but through changing life circumstances of immigrants. In each chapter, we are introduced to a new woman's experience. However, we can feel that their life is like a maze from which you cannot escape. Life carousel rotates them from a ship which goes to America towards the farm or shop where women are enforced to work. From birth giving to watching those children grow up as their starting to forget their roots more and more. From blindly obeying husbands and employers to new life founding in American culture. The novel ends describing a Pearl Harbor morning, when Japanese is massively kicked out of their new home and over time becomes forgotten. Julie Otsuka's story filled with many incidents allow us to know the historical circumstances and feel main characters sufferings.
An exclusive feature of this book, which allows you to feel the ideas of the far East, is the narrator, who tells the story on behalf of all characters. Collective community promotion is all over the novel. It is sign of Japanese culture which manifests a humble acceptance of fate, shyness, obedience. In the novel, women do not even try to resist or to run because it is disrespectful to their parents who taught them life principles. Therefore, they suffer from hunger, exhaustion, pain and humiliation. Julie Otsuka has perfectly revealed the migrant's plight in a foreign country. Highlighting the women's stories, which are told in general "we" position without main character.
On top of that, the author chose to tell everything by listing incidents one by one. This leads to a steady rhythm and wide range of emotions when happy mood gradually changes to oppressive. It is clearly seen in this fragment: "We gave a birth to Tamez who looked just like our brother and joyful glanced at his face. […] We gave a birth, but the girl died in the womb, and we buried her naked in the field near the brook, but since then we have changed our living place many times that we do not remember where it is now". This contrasting narrative method used in this book helps to combine all women's destinies in one story which summarize a diverse range of experience. Moreover, this shows that even the most personal experience has been felt by all women.
The novel "The Buddha in the Attic" was inspired by Japanese immigrants who arrived in America at the beginning of the 20th century, life stories. This book was based on numerous historical sources. The author's parents played a huge role motivating her to know and write about her roots. Therefore, this book won the American Historical Fiction and the PEN Faulkner award and was selected as the Year of the Boston Glove best book.