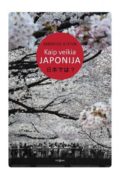 Authors:
Kleiva, Andrius
Published in:
Vilnius
Published on:
2018
Publisher:
Tyto Alba
"I will see what can I do for Japan and what Japan can do for me. This book is the result of that project." with these words, the author presents the idea of this book. Because of such words reader is able to understand that this book will certainly not be a dry academic textbook or information guide, how to survive in Japan. A. Kleiva describes this book as an entirety of his personal experiences, thoughts, and stories he was able to collect during his life in Japan.
Speaking of the contents of the book firstly is necessary to mention the style of the language. Author's writing style is very free and informal, that's why while reading it gives you the impression that you are talking with A. Kleiva himself.  The author talks about various topics, some of them feels like a new discovery, others look familiar, but at the same time are presented from a different angle. A lot of photos and the fact that author tries to compare every topic with Lithuania or other western countries gives more colors for this book. That's why it's easy and interesting to read.
The author starts this journey with a chapter about nature, he speaks about the terrible natural disasters and even such thing as recycling – topics that in Lithuania are rarely touched. The book continues with a presentation of "the fight against one of the most dangerous languages" and stories about Japanese lifestyle, education system and Japanese opinion towards work. Later on, author talks about impression that Japan has of other countries and how Japanese are looking at their political system, customer service, and family life. And of course, how Japanese themselves value worldwide well known products of Japan. The journey in the book ends from another angle: people give their opinion about different topics that author has mentioned in the previous chapters. And in the last chapter A. Kleiva gives Tokyo's (non)guide in which he shares experience about survival in this city. As A. Kleiva says Japan is full of new discoveries and can find a place in anyone's heart. That's the reason why this book might be interesting for those who think that they are familiar with Japan and for those who see it as some world of fantasy.
Andrius Kleiva was previously well known in Lithuania as the youngest Lithuanian blogger, later he was writing articles in the section of technologies and politics. A. Kleiva studies at the Institute of Political Science in Paris, he lived in Japan for a year as an exchange student. How does Japan work? his first book full of real experience while trying to look in the eyes of Japan.