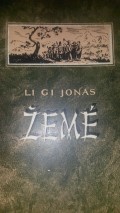 Original language:
Korean
Translated from:
Russian
Authors:
Yi Ki-Yong
Translated by:
Kazlauskaitė, Milda
Full translated source bibliographical description:
Yi, Ki-yŏng, Itang. Versta iš: Земля. Москва : Издательство иностранной литературы, 1953
Published in:
Vilnius
Published on:
1954
Publisher:
Valstybinė grožinės literatūros leidykla
Link::
(Lietuvių) http://www.libis.lt:8080/detailedSearch.do?@creator=&authorIds=LNB%3ACC5n%3B%3DBP&doSearch=1&doCheck=1&searchSource=1&saveFilters=false&saveParameters=false&mainFilterArea=true&resId=null
In 1946, a year after the liberation of Korea, the Provisional People's Committee for North Korea, headed by Kim Il-sung, introduced a land reform law that swept the country, changing the lives of Korean people. The economic and social changes that follow the implementation of the agrarian reform are the main focus of Yi Ki-Yong's novel "Soil". Japanese and Korean landlords had their land expropriated and distributed to all tenant farmers. The author skillfully ties the fates of peasants unifying them for a common purpose that reveals the hopes and dreams they have for the democratic establishment.
Their patriotic stance and hardworking qualities as they try to gain more rice fields in an unwelcoming rocky mountain soil represent the faith they have for a brighter future, one without hunger and fear that they waited for through the years of the Japanese occupation. The author does not shy away from many harsh words towards the occupants and the landlords that allied with them. It is the work of peasants that is praised and much attention is forwarded to the details of their daily life. The novel is full of characters, each with a different set of hardships they experienced and yet that thought them prepare for future challenges. The land reform is what inspired them to work even harder, slowly grasping the principles of democracy and human rights. Yi Ki-Yong's detailed insight into these changes open up new North Korean history pages making the novel one of the most popular book after the liberation of Korea.