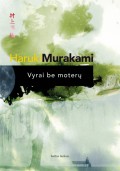 Original language:
Japanese
Translated from:
Japanese
Authors:
Haruki Murakami
Translated by:
Čepulionytė, Gabija
Full translated source bibliographical description:
Haruki Murakami, Onna no innai otokotachi, Tokyo: Bungeishunju 2014
Published in:
Vilnius
Published on:
2015
Publisher:
Baltos lankos
Haruki Murakami is a japanese writer, born in 1949 on January 12th. He was raised in Kiyoto but currently lives in Tokyo. According to the majority H.Murakami is contraversial and has a Western outlook. In his homeland he is criticized for abandoning the typical style and some of the Western countries believe that he is being toady towards them. Disregarding that, no one can deny that Haruki Murakami is one of the greatest writers that are still alive and his work is constanly in the bestseller list. One of his most recent books "Men without women" is a six-story collection which is about men that are parted from or left by their women. Protagonists suffer from loss in every single novelle.
First novelle "Drive my car" was likely named after the hit song of the Beatles. However, other than that the story that is told has nothing to do with the song. The main character is an actor in the theatre named Kafuku who hires an experienced female driver Misaki Vitari to drive him to certain places. The whole story takes place in a yellow SAAB where the protagonist and Misaki have several conversations about serious matters. As the plot progresses it's possible to notice how their behavior and manners change, they become closer. The reader can easily see how the minimal amount of talking changes into serious events that have happened in their life. One of the most important stories is probably the one where Kafuku opens up about his wife\'s betrayals and becoming friends with one of her most recent lover. In exchange Misaki reveals her childhood wounds such as mother's terrible behavior towards her, later, her death and loss of her father. All of this is connected with their chat about egzistance and the falsness of the world.
The next story is "Yesterday". We can notice that the name was again influenced by the author's beloved band the Beatles. The main character Tanimura is looking back into his past, youth. He is reminiscing about his weird friend Kitaru who was obsessed with learning the Kansai dialect even though he was from Tokyo. The plot keeps changing space and time. We can feel a certain nostalgia that has taken over the protagonist. Eveyrthing takes place when his friend asks Tanimura to date his loved one in order for her to be happy. "Yesterday" – is a story about loneliness, love and friendship. One particular quote in the ending summs up the inner world of the character: ".. transperant moon. But there was no one beside me. I was looking at it all alone without having anyone to share the beauty and cold of it."
The other novella is "Independent organ". A story of a meeting with a plastic surgeon is mentioned who tends to start romances with his client. It is easy to notice that the surgeon does not value family and does not even think about marriage, he prefers the role of a secret lover. But everything changes when one of Tokays clients make him fall in love with her. It is very important to mention that this romance was not meant to be and because of that the used-to-be cold hearted doctor faces an emotional conflict. The reader can identify H. Murakami's well known tragic love story and its consequences.
The forth story is "Scheherazade". It leaves the impression that this story is told by the author himself from his personal experience. It tells a story of a man who has been sentenced to house arrest and a woman, which he named Scheherazade. The woman mentioned before takes care of the home, brings groceries to the main character and engages in sexual intercourse with him. With the story progressing a constant suspense is visible which is caused by the unfinished stories that are told by Scheherazade after intercourse. She talks about her three lives: eel, her teens years and the story tellers. The man in this story simbolizes an emotional solitude, meanwhile the woman is a complete opposite to the man. This novella analyzes and highlights the different psychology of the sexes. The inner world is the most noticable because this is exactly how Scheherazade pulls in the protagonist and leaves him wanting more.
"Kino" – one of the final stories in this collection. It is dynamic and has plenty of changes in the storyline. The main character Kino is a divorced bar owner. He is constantly looking for himself and is trying to develop something new. This novella is full of details like a cat, mysterious woman and jazz, which are well-known when speaking about H.Murakami. But the most important one is the loneliness that haunts the protagonist. Affected by it he lives dwelling the past and does not listen to his inner voice. After meeting a mysterious lady he learns how to reveal and accept his feelings. This piece of writing consists of searching for purpose.
The last segment "Men without women" summarizes all past stories. It is about the loneliest man in the world and second loneliest. The author writes about how they deal with the death of their beloved M. We can feel the motive of loneliness that travelled throughout this collection. Haruki Murakami does a great job at giving a sense of meaning to this series of stories with these last words: "Becoming men without women is a simple thing. You just need to be in love with one woman and then have her leave you. And there is nothing we can do about it."