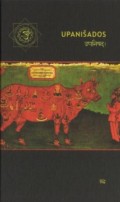 Original language:
Sanskrit
Translated from:
Sanskrit
Authors:
Unknown
Translated by:
Beinorius, Audrius
Full translated source bibliographical description:
Šri Šankaracaryagranthavali. Prathamo bhagah: Išadidašopanišadah Šankarabhašyayuktah, ed. Šri Govinda Šastri (Dilli: Motilal Banarsidass, 1992).
ISBN:
5415019316; 978-5-415-02338-7
Published in:
Vilnius
Published on:
2006
Publisher:
Vaga
'Upanišados' is the book that contains ancient Indian texts, that talks how to know yourself through mystical understanding. This book talks about normal things like breathing, touching and seeing making them godlier. There are some legends how human became human and how to get out of reincarnation circle. All Upanisadic or parts of it are put in this book. Each different Upanisadic are put in sections. Before each Upanisadic there are opening remarks about what will be this Upanisadic about. …
Upanisadic are rhymed or half rhymed, there are numbers near each verse. If you look for that number in explanation section at the end of book you will find explanations about word meaning and what that verse wanted to say to reader. There are some illustrations in which you can see ancient Indian religious sights. This book is interesting. When you read it you can find ancient Indian philosophical, social understanding and spiritual sense. This book is first book that was directly translated from Sanskrit to Lithuanian language.