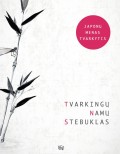 Original language:
Japanese
Translated from:
English
Authors:
Kondo, Marie
Translated by:
Černiauskaitė, Lina
Full translated source bibliographical description:
Marie Kondo. Ten Speed Press / Random House, 2014
ISBN:
978-5-415-02419-3
Published in:
Vilnius
Published on:
2016
Publisher:
Vaga
Marie Kondo is an organisational consultant and author. Ever since she was little Marie was interested in categorising and organising things. Now she consults people and organizations in how to adequately tidy up a work place or home and then how to keep it that way. "The Life-Changing Magic of Tidying-up" is the collected knowledge and experience of the author and is filled with practical advice and new perspectives.
The first chapter mostly focuses on the attitude and approach to tidying. The author takes us through her method by explaining how she came to certain conclusions and illustrates them by giving us examples from her own life. Here she also busts a few myths and encourages the reader to view item management as any other life skill worthy of mastery.
One of the most important problems addressed in the book is discarding things. It can be a truly difficult decision to make, but the author gives us a surprisingly simple perspective. She says we shouldn\'t so much focus on the question whether the item is useful but whether it brings us joy or not. Formulating the question in this way may seem impractical, however it is important to accept the power that sentiment plays in our lives. Since not that many of our possessions are effectively necessary such a change in perspective makes it considerably easier to decide whether we should keep it or not.
The book also discusses the sorting of household items. Everything from organizing clothes to books to small knickknacks and important mementos are covered. All items have their place and value.
Such changes in surroundings and habits obviously have a positive effect on not only mood, but quality of life in general. These psychological aspects are mostly discussed towards the end of the book.
Although much of the advice and methodology can also be found in western books about organizing, the presentation and framing are unquestionably different here. The book highlights our relation to objects and respects that connection. Because of this the entire book reads more like a light philosophical meditation than an instruction manual. The thoughts are clearly presented and the writing style reveals the efficacy of the balance between order and aesthetic in the method itself.