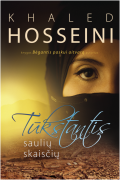 Original language:
English
Translated from:
English
Authors:
Hosseini, Khaled
Translated by:
Čeponis, Jonas
Full translated source bibliographical description:
Khaled, Hosseini. A Thousand Splendid Suns. New York: Riverhead Books, 2007.
ISBN:
978-9955-13-277-6
Published in:
Kaunas
Published on:
2010
Publisher:
Jotema
"A Thousand Splendid Suns" is the book about two Afghanistan women's lives from childhood to adultery. Marjama is illegitimate daughter of a businessman. She and her mother live in a small house in poor conditions. The girl cannot even dream about education, beautiful future or better life in general. Leila, differently than Marjama, lives surrounded by the love of family. She studies and has dreams of the future. It seems that these two girls live in completely different worlds. The education and level of life is separated between them. It looks like the ways of them could never intersect, but the opposite occurs. The destiny has decided to bring them together and eventually they both become one and the same man's wife. Marjama was forced to marry man she does not love. Leila lost her family during the war, so she hadn't other choice just to marry man who promised to take care of her.
At first, Marjama and Leila are fierce enemies, but later become best friends and even allies and both work together to resist against cruelty of husband and war in Afghanistan. Each day they are forced to watch how their brothers, sisters, parents and lovers dying around and even not to feel safe in their home, because of violence of husband. Also, in this book, as a parallel, is told the history of Afghanistan. Starting from the good times until Soviet tanks invaded, going through the communist occupation, Taliban domination, murder, riots, and bombings until American intervention and test to rebuild the country.
"A Thousand Splendid Suns" is suggestive, dramatic and lyrical story of true love, invaluable friendship and undying devotion to the motherland. By reading this book, you will introduce with Afghanistan policy, women's living conditions, when the modes are changing and also with Islamic culture and religion.
Khaled Hosseini was born on March 4, 1965 in Kabul, Afghanistan. He is the oldest of five children in his family. His mother worked as a Persian language and history teacher at a girls' high school of Kabul. In 1976 the family moved to France, because the writer's father was appointed to work in the diplomatic service of the Embassy of Afghanistan. In 1980 the family returned to Afghanistan, however, there had already been communist revolution and the country has been taken by the Soviet. K. Hosseini parents asked the political asylum in the United States and the application has been accepted. In 1980 they made their residence in San Jose, California. K. Hosseini studied at the University of Santa Clara and graduated the School of Medicine of San Diego. Until 1996 he worked as a doctor of internal medicine. His first novel "The Kite Runner" became an international bestseller which was published in forty countries. His second novel "A Thousand Splendid Suns" was published in 2007 and immediately became the best American bestseller.