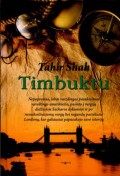 Original language:
English
Translated from:
English
Authors:
Shah, Tahir
Translated by:
Drazdauskienė, Rasa
ISBN:
978-9986-16-937-6
Published in:
Vilnius
Published on:
2012
Publisher:
Tyto alba
Story begins when Royal African Committee decides to finance an expedition to Africa's heart, the city made out of gold – Timbuctoo. People are motivated to make investments by saying not to give it to French who already sent an expedition out and assuring them that the expedition will pay off and be very successful. The goal of this expedition is to show the world, that even though England lost its colonies in America, their crown is still strong and unbeaten. Of course, when a young and famished American shows on the streets of London, the Royal African Committee is not very happy. American is saying that he visited the king of Timbuctoo and didn't see any gold.
The news that an American reached the dream city first was upsetting, so the committee in order not to lose investors made a plan to get rid of the American by making him a laughing stock. His story telling was made public and soon enough the whole city was talking about him. It was a story about crazy adventures, survival, Christian slaves, greed for gold and love of his life for which he ended up in Africa. This story is not the only one in this book. The investments never reached the expedition. A secret society took it in order to reach their goal and they are ready to do anything to reach it.
"Timbuctoo" is a story based on real events. The author Tahir Shah first time saw the book in the depths of London library. He was looking for a paper about dried heads and saw it. It was a one inch wide book with leather cover in the shelf just under the water pipe. The moment he opened the page and read it, he decided to make it into a book. He was fascinated by the story. So "Timbuctoo" is a real story mixed with the imagination of Tahir Shah.
Tahir Shah (born 16 November 1966 in London) is an Anglo-Afghan Indian author, journalist and documentary maker. He was brought up in a family of intellectuals.  In 2003, sick of living in a London apartment, Shah moved to Morocco along with his wife Rachana and their two small children. They lived in Casablanca, Morocco ever since. He wrote 11 travel books, his movies are being shown on National Geographic Channel, The History Channel. There are two other books translated to Lithuanian: "The Caliph's House" and "In Arabian Nights". In 2013 he introduced this book in Vilnius book fair.