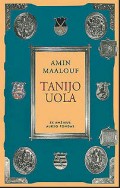 Original language:
French
Translated from:
French
Authors:
Maalouf, Amin
Translated by:
Banionytė, Stasė
Full translated source bibliographical description:
Maalouf, Amin. Le Rocher de Tanios. Grasset: 1996.
ISBN:
9955-08-263-1
Published in:
Vilnius
Published on:
2003
Publisher:
Alma littera
"The Rock of Tanios" – is one boy's story about kid Tanios from the same village as him, who lived there before and disappeared dramatically.  Storyteller uses three sources: two of them are from people, who were really close with Tanios and another document is newer. This record author is monk Elijah, who died the next day of the beginning of the First World War. This book is divided into 9 "curves", which splits it into chapters and sections. In every chapter we can feel a different manner of talking, even storytellers note in his voice changes. Story is consistent, but sometimes into past, there are some interrupts from the present.
Novel skips from the present into the 19th century of Near East. Book starts with Tanios mother – Lamia. This woman was so beautiful that her pulchritude has become proverbial in the region, and the Sheikh Fransis becomes determined to have her. He seduces Lamia and in novel comes new question: who is the real father of Tanios? Is it Sheikh or is it Lamia's real husband Dzeriya?
Book is not only about family drama. It is about grey-haired youngster Tanios. His life is really complicated and his every "curve" is very confusing and unpredictable. One second this boy goes to a foreign mission school and another – he is running from the village Kfaryabda with his legal father, who murders the Patriarch with the gun of England consul. After leaving this beloved village and forced to flee into Crete, they meet new novels characters. These characters are actually emir agents, who capture murderer and kills him after bringing him back to homeland. Tanios survives, but his life changes again, when he needs to take Sheikhs place for a moment.
This book – is wise legend and adventurous novel, who will embrace almost every reader. Action is very intensive and full of surprises. There are a lot of characters – mule drover Nadero, powerful Sheikh Fransis, obsequious Dzeriya and his perfect wife Lamia, grey-haired Tanios, the Christian Patriarch, priest buna Butros with his wife, expatriate Rukozo and his daughter, Tanios first love, Asma. Portrait of these characters are really colourful and charming. They provide novel with more vitality aspects.
The story is extremely well written, because we can clearly see that time spirit, customs, life manners, political issues, religion (Islam and Christianity) jostle, geography, historical events. This novel is based on a true story, how murderer after his crime, runs with his son to Crete. But everything else – storyteller, his village, sources and characters – they are just made by writer. In the end, Tanios just vanish from sight after sitting on unusual chair rock and was never seen again.
Amin Maalouf (born 1949 in Beirut) is a Lebanese-born French author. Although his native language is Arabic, he was raised with the French spirit and after moving to France, he writes in French. Mostly, his novels action takes place in Africa, Near East or in the countries of Mediterranean Sea. In his every book, writer is trying to build a bridge between East and West. Maalouf works have been translated into more than 20 languages and he received the Prix Goncourt for his novel "The Rock of Tanios".