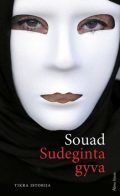 Original language:
French
Translated from:
French
Authors:
Souad
Translated by:
Račienė, Laima
ISBN:
9786090107461
Published in:
Vilnius
Published on:
2020
Publisher:
Alma littera
"Burned Alive" is a true story that happened in Palestine, in which Suada, a now forty-year-old woman, tells the story of her youth and life in the homeland, especially the situation of girls and women and the barbaric customs in Palestine that kill thousands of them senselessly every year.
A girl born into a Palestinian family is a real misfortune, that no one wants, and it is not even strange that many of them disappear without a trace, parents also often stress that having a sheep is much more useful and better than a girl. Girls work the hardest jobs, have no childhood, no toys, are beaten, strangled, burned and that is considered the norm because they do not know a different life, or that somewhere else in the world it can be much different. All the more they do not resist and unconditionally obey the men of the family, whereas men, parents and even little boys have all the privileges and can be responsible for their own lives.
The story of the book's heroine, seventeen-year-old Souad, is an example of the whole situation. Having fallen in love with one of the village guys and getting pregnant, she "signs the death sentence", because having sex here before the marriage, like in many other Palestinian villages, is a huge sin and shame. As a result, Souad's family decides to kill the girl, who has lost her honor, as the execution of an "honor killing" is considered a respectable duty that is rarely condemned by the locals. One day her brother-in-law finds the girl in the family's backyard, throws gasoline on her and sets her on fire. However, Souad and her baby miraculously survive, and with the help of one French woman from a rescue organization SURGIR, she flees the country for Europe to hide from her family at the age of 18-19.
Souad's determination to tell about her tragedy is important because it is the only way to draw the world's attention to the barbaric customs that kill thousands of women pointlessly every year and start fighting it. In doing so, however, Souad risks being found and killed by relatives, as according to the customs of her country, the family must do so at any cost. Moreover, although she is tormented by the longing of her homeland, it is overshadowed by the horror and pain she experienced. When she arrives in Europe, she learns a new language, how to write, new rules of life, and shares about her life in Palestine, especially about her path to that terrible event that changed her life forever.
The storyline of the book shocks the reader to the depths of their heart, then makes them glad that they have never experienced such a life, but also saddens with a realization of how many more women are left without help, because to be a woman in this region means to feel inferior even to an animal. The storytelling in the book is very simple and raw, so it reminds of a diary and makes the story feel very authentic.
As this is an autobiographical book, the author of the work is Souad herself, who currently lives in France. French journalist Marie-Thérèse Cuny helped her write the whole story. The original was published in 2003 in France and the book has currently been translated into many other languages.