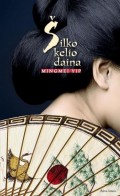 Original language:
English
Translated from:
English
Authors:
Mingmei Yip
Translated by:
Liutkutė, Jovita
Full translated source bibliographical description:
Yip, Mingmei. Song of the Silk.
ISBN:
ISBN 978 - 60 9 - 01 - 0459 - 0
Published in:
Vilnius
Published on:
2012
Publisher:
Alma littera
,,The Silk Road song"– an impressive, and involving novel about spiritual exoticism, and secrets and human searches. This novel tells the story of this still being a little girl and while she was in Hong Kong, Lily Lin were admired by the desert, and more specifically the desert pictures. Boundless, bottomless eyes away and traveling dunes. Now, while living in New York City, working in a coffee shop and in an attempt to complete the opening of the novel, the University still attracts an unexpected windfall resulting from the proposal from her aunts. Aunt of which Lily never anything was neither heard or had known, declares niece will pay a huge amount of knowledge not just for yourself, but if Lily will agree to travel through China threatening Takla Makan desert and along the way to perform some difficult tasks. Curiosity and desire to get money, Lily agrees.
One of the tasks assigned to it dangerous to others – a strange. Lily must strike fire a piece of clay from the famous terracotta sculptures, climb up into the sky mountain and there to pick bighorn lotus, and seduce the monk. Xi'an, the first stop of their journey, she meets young American boy named Alex and this, accompaned her everywhere. Takla Makan journey through the desert, Lily agrees to a lot of people worked during the trip contributed to the life of contemplation and attempts to make changes. So if you are looking for a book that you could read information quiet evening at a cozy fireplace and wish to deliberate their former lives so far and the work done, I would suggest to read this novel, because it\'s a charming story about self-confidence and dedication.