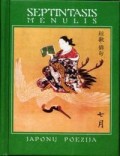 Original language:
Lithuanian
Composers:
Puzaitė, Evelina
Translated by:
Žilaitytė, Joana Danutė; Baltuškevičius, Vladas; Baniulis, Julius; Geda, Sigitas; Juškaitis, Jonas; Kajokas, Donaldas; Karčiauskas, Mykolas; Korsakas, Kostas; Mackus, Algimantas; Neimantas, Romualdas; Patackas, Gintaras; Sruoga, Balys
ISBN:
9986-715-29-6
Published in:
Vilnius
Published on:
1999
Publisher:
Meralas
There are four chapters in this book.
First chapter introduces ancient poetry examples from the oldest Japanese poetry sellection "Kokinwakashū" ("Collection of Japanese Poems of Ancient and Modern Times" – the very first imperial poetry anthology in approximately 905) also "Hyakunin Isshū" ("One Hundred Poems by One Hundred Poets" ) and many others.
Second chapter is dedicated to a well known 12th century poet Saigyō. His name is always mentioned when it comes to tanka genre prosperity. 262 of his verses were added to imperial anthology of Japanese poetry.
The following chapter emphasizes the authors of 17-19th century, such as  Bashō, Buson, Onitsura and others. Matsuo Bashō himself gave a great contribution for the improvement of haiku genre. He lived during Edogawa period, which used to note the last days of feodalistic development –  also better known as the golden age of Japanese literature. This chapter also contains a couple of Bashō's students poems.
Fourth chapter is meant for modern period poems. There are two main figures – Masaoka Shiki and Ishikawa Takuboku. Shiki`s legacy had a great influence for 20th century tanka and haiku genres. Besides he was a source of inspiration for many poets of that time. Meanwhile, Ishikawa Takuboku was the innovator of tanka genre. A feeling of lyricism, subtile psychology and philosophical ideas can be found in his verses.