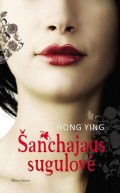 Original language:
English
Translated from:
English
Authors:
Hong Ying
Translated by:
Vaskelaitė, Ramunė
Full translated source bibliographical description:
Versta iš: Hong Ying THE CONCUBINE OF SHANGHAI Marion Boyars Publishers Ltd, London, 2008
ISBN:
ISBN 978-9955-38-846-3
Published in:
Vilnius
Published on:
2011
Publisher:
Alma littera
"The Concubine of Shanghai" is a historical fiction where emphasis is put on life of East Asian woman and Chinese politics. The story brings the reader through a bright picture of the main character, competition between members, distress and intrigues. Ying book is internationally accepted, though in China it would probably be forbidden. The author combines her own opinion into the storyline and makes it more readable. Nowadays we can find many books about Asian women, which become prostitutes by violence, but this book is not like that at all. Here Chinawoman has showy charisma, wisdom and is able to break the rules of the eighteenth century therefore to achieve more than any other woman. "The Concubine of Shanghai" involves many critical themes, one of them is women rights in the nation.
The main character Cassia in her childhood is sold by her relatives to a high class Shanghai brothel. The leader of this brothel – Madame Emerald – takes Cassia as a maid, because her look does not fit the standard of the pavilion courtesan. Cassia has large feet, too big eyes and too wide mouth. Nevertheless, at the age of sixteen she gains attention of most powerful man in Shanghai Chang Lixiong, who is the master of the Hong Brotherhood. For a short time Cassia's life is perfect. Love, treasures, appreciation is all about she could ever dreamed, but one day everything turns upside down. She has to live on her own. Then life difficulties turn Cassia into a strong woman. After few years she comes back to Shanghai with actress troupe to make her dream come true. Her dream is to be the best actress and the most powerful woman in Shanghai. However, she has to try hardest to reach this aim. She meets mysterious leaders of Triad mafia who control all of the country. Cassia understands that the main Shanghai leader Huang Wei Ju is a good catch to start new life with. Therefore she easily seduces him with her feminine charm. So this time sexy and self – confident women faces government's trap, passion and love as well.