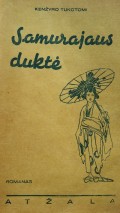 Original language:
Japanese
Authors:
Kenjiro Tokutomi (Roka Tokutomi)
Translated by:
Paulauskas, Stasys
Published in:
Kaunas
Published on:
1938
Publisher:
Atžala
Novel "Nami-ko" by Kenjiro Tokutomi is a love story about Nami-ko Kataoka and Takeo Kawashima. The book starts with a scene, where a young wife is waiting for her husband coming back from work. While telling about the life of this young family, the writer mentions Nami-ko's family as well: her father, the general of samurai, her mother who is unfortunately dead, her step mother, who was able to study in London, also her brothers and sisters. Later on, the author writes about Takeo …Kawashima's family as well. While reading, you can feel that in traditional Japanese society, family and roots are very important.
While highlighting the kindness and diligence of the main character, we also have some negative personalities. Kijiwa, a cousin of Takeo Kawashima and Yamako, a merchant and easy benefit seeker. In this novel, Kenjiro Tokutomi likes to highlight the good characters of the story while writing about negative ones. This way, while watching how messy her student is, Takeo's mother remembers how silent, calm, helpful and hard-working Nami-ko is.
Japanese nature, food, clothing is often mentioned and described in the novel. It is interesting to read about family traditions and the power that the oldest family member holds. The plot is being developed skillfully and the abundance of events makes the reader want to know how this love story between Nami-ko and Takeo will end.
Japanese readers value this novel for promoting samurai bravery and noble desire for honor because this novel is set in the time of the Chinese and Japanese war. The writer idealizes Japan's seek for independence, desire for freedom and endurance.
Kenjiro Tokutomi's novel "Nami-ko\" is probably the best of his work and one of the most popular Japanese literary works.