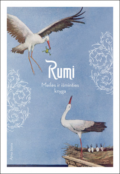 Original language:
Persian
Translated from:
English
Authors:
Rumi, Jalal ad-Din Muhammad
Composers:
Mafi, Maryam; Kolin, Azima Melita
Translated by:
Ališanka, Eugenijus
ISBN:
9786090127063
Published in:
Vilnius
Published on:
2017
Publisher:
Alma litera
Poet of the Middle Ages, the Sufi mystic of Rumi (1207-1273) is one of the most popular poets in the Western world. There is nothing new that the name of Rumi in Lithuania was heard at least for those who were interested in Oriental culture and poetry, but his work is still a little known. Therefore, it's urgent to introduce a poetry book: Rumi's little book of life: The Garden of the Soul, the Heart, and the Spirit – to collect translations from various works of Rumi and to allow the glass translation to touch upon Rumi's wisdom and love, to feel the beauty of the Eastern culture of secret and very fragile poetry.
This piece of work aims to instruct the reader, and to show the reader a certain path beyond ego and love. The book contains three thousand love queues that teach and are dedicated to Shams, Prophet Muhammad and God, but this is not moralization, it's the word teachers who are worthy of remembering the rest of the trapped and unpredictable life. These are the words of the teacher who are determined to become a student each and every moment.
Touching this Rumi's little book of life: The Garden of the Soul, the Heart, and the Spirit, it is possible to fell in love in the way you never loved before, and feel the warmth of heat, so that no other book did not expose this heat.
Sitting in the cage of your life
Watch the spirit bird before it leaves.