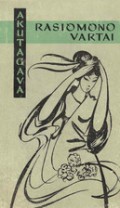 Original language:
Japanese
Translated from:
Russian
Authors:
Akutagawa, Ryuunosuke
Translated by:
Rudokas, Vytautas
Published in:
Vilnius
Published on:
1965
Publisher:
Vaga
In this book we can find philosophical reflections on human life and at the same time Japan's domestic life episodes, people relationships and so on. Novels are short ones, because of the long-lived Japanese verbal creativity roots. During Akutagawa writing period, Japanese literature at the same time was into naturalism. All this reflected in the creativity part. His works takes a really important place in Japanese literature: after he died his creations was fully released and was established Akutagawa's name literary prize, which is given annually to a young writer every year… All this shows how great is seen Akutagawa's name in the new literature of Japanese culture. A lot of short stories are connected with Japanese religions.
The word "Rashomon" itself means gates, which guarded Japan's capitals at a certain times. Even until now we can find these historical monuments, which shows conflicts of throne and power. Over time the gates became unpleasant place where people with dubious reputations used to hide. At the same time even babies and human corpses were thrown. Writer raised this dangerous area in the first novel of his book, which reflects current RASHOMON lifestyle. One of the most  famous Japanese directors –  Akira Kurosawa made a film of the same name as the collection of short stories Akutagawa 'Rashomon'. However, the storyline has only a couple of short stories in the book above. The film is based on another Akutagawa's short story "In a Grove".
Akutagawa Ryuunosuke (Japanese prefer to write first surname and just then name) – one of the most famous Japanese novelists ever. After the birth of a writer in 1892, his mother gone insane. Novelist was raised by his mother's uncle, which adopted him and gave his surname. Her origin was well-known kin – the Akutagawas. They conserved and respected old Japanese cultural traditions. This kin a long time ago had very famous writers and scientists. In 1916 he finished his studies at Tokyo …university and started to teach English language at school. About earlier writer's life there is no wider knowledge. Novelist's works has a lot of irony and delicate humor. Akutagawa always wanted to run away from frightening reality. Anyway, he all the time believed in a good person and his good works. Because of these reasons, writer went deep into the inner world of man, searched the ideals of purity. During studies he printed his first works which had a success in widespread recognition. In 1927, 14th of July he committed suicide. The reasons why are still unknown, even until today.  One of the hypothesis are: He lost his faith of ideals, that's why he killed himself. We can freely call him the best Japanese storyline novelist ever.