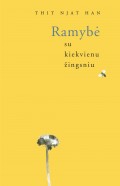 Original language:
English
Translated from:
English
Authors:
Nhat Hanh, Thích
Translated by:
Dagys, Saulius
Full translated source bibliographical description:
Thich Nhat Hanh, PEACE IS EVERY STEP. New York: Bantam Books, 1991
ISBN:
978-9955-477-22-8
Published in:
Kaunas
Published on:
2014
Publisher:
Trigrama
"Peace is every step" is a book about human's life and individual improvement, following the Vietnamese Buddhist monk Thich Nhat Hanh's philosophy. Components of the book are quite similar to the reader's life – it is filled with ups, downs and musings, while every chapter's title touches yet another part of human's daily routine. In his book Thich Nhat Hanh teaches how to slow down, relax and just breathe in our society, which is filled with stress, quick lifestyle and chaos. The whole Vietnamese monk's philosophy is based on ability to breathe, using it to calm down both your body and the soul.
This book consists of three parts, which titles define what that part is about. The first part is called "Breathe! You are alive". This part is like an introduction, in which Thich Nhat Hanh's philosophy is described. Peace, breathing and meditation are the key themes that play in the first part. The reader is prepared for the other parts, in which the philosophy is applied to find inner peace. "Every time when we wake up in the morning, we get twenty four brand new hours of life" – this is the quote that starts the first part of the book. Using this, the author is stating that every time we wake up, we get a new chance to grow and improve.
In the second part called "Healthy changes" the author is talking about person's relationships with other people: Family, friends and relatives. In here he teaches to communicate honestly, not trying to conceal your emotions but rather learning how to control them by not fearing to talk everything out. Probably the most important idea in this part of the books is that people should not try to erase the parts of themselves, which they don't like but much rather they should try to change them into something positive. It is suggested to transform anger, fear or depression into understanding, since Thich Nhat Hanh states, that "Anger can be removed without the surgical operation".
The last part is called just like the whole book is called and in it Buddhist monk talks about the art of seeing good things in the simple objects that are part of our daily routines. Sometimes the things that do not appeal at first can bring us joy and light. The best example of this is compost. At the first sight compost is not the closest thing to our hearts but the things is that after we lay down the compost, flowers start growing, and flowers bring all of us joy. Flowers – one of the most important objects of the book. The author turns flowers into a symbol that is understood using the gift of seeing. Even watching a simple flower we can see it's true meaning to bring smile upon our faces.
The best way to sum this book up, is using one simple word – breathing. This book is like a new, fresh breathe of oxygen into our lungs, which gives us life and understanding. It teaches us how to find peace not only in ourselves but it the things where we do not expect to find it.