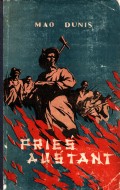 Original language:
Chinese
Translated from:
Russian
Authors:
Mao Dun
Translated by:
Bielinskienė, M., Petrauskaitė, P.
Full translated source bibliographical description:
Мао Дунь,"ПЕРЕД РАССВЕТОМ".Гослитиздат, 1952
Published in:
Vilnius
Published on:
1954
Publisher:
Valstybinė grožinės literatūros leidykla
Novel "Midnight" is one of the best known works by Mao Dun, still popular and influentual in People's Republic of China even nowadays. In the Russian translation of the book, from which this translation has been translated, title was changed to "Before The Dawn" (borrowed from a sentence in the novel), as translator to Russian thought it fitted the novel's mood better. "Midnight" is a realistic novel and was written under constraints of censoring in Kuomintang-ruled China (first published 1933) and thus is not a socialist-realism styled work despite author's political stance. It doesn't contain anything openly opposing the capitalist government and thus is quite an allegorical work.
"Midnight" is set in 1930. There are huge changes and unrest: a civil war has broken out between Kuomintang's army and communist forces in countryside, with communists de facto taking over some villages and small towns, also the Japanese are trying to make use of the situation, foreign businesses seem to be taking over the market, not to mention all kinds of social changes slowly happening in the background…
The plot begins with Wu Sunfu bringing his younger sister, son and his father, "the old mr. Wu", from the native countryside to big Shanghai city. The old man is so conservative and so disgusted of the city, the car he\'s in and all kinds of other things unusual to him that he gets very sick en route and dies the very same day they arrive. It could be said that this death is a kind of metaphor for old, traditional China, which was gradually being eradicated by modern, industrial cities.
Wu Sunfu is a big businessman: owner of silk products factory and trader in Chinese stock market. He is not sensitive as a person and always preoccupied with raising his capital, meanwhile the people around him are lightheartedly lazing around and wasting the money. While they apparently are of no use to him, he either is indifferent and doesn't seem to understand the spiritual and mental problems of some of them. His business partners and helpers involve him into risky ways of making more money for him and them, which don't go very well, or betray him altogether. His rival, much bigger and more successful player in the stock market Zhao Baodao, is driving him into a corner, and on the other side of his troubles are female workers of his factory, increasingly more unrestful, who are trying to strike. To sum up, this novel is a story of a a man whose luck seems to be turning the back on him. After succeeding in saving some money that seemed to be lost after stock market manipulations by Zhao Baodao, he takes a holiday time to have some rest with his family and with this the story ends, leaving the reader to decide what is what by her/himself.
Despite the revolutionary style of the cover artwork, there's not much socialistic content in this book at all, besides the episodic descriptions of the workers and the war that is happening somewhere quite far away from Shanghai.
Mao Dun is only his pen name, and it means "contradiction" in Chinese. In precommunist China he was one of the most famous new writers, and in that period he wrote most of his works. After the communist coup d'etat in 1949 he was appointed PRC's minister of culture, and being very busy with his official job, he had very little time he could use to write. So, when he became an official, his carreer as a writer effectively ended. Here in Lithuania he is almost unknown, as only a couple of his books have been published in our language (a translation of a novella in 1937, and this novel in 1954). Both of them were hardly popular even then, only had relatively small print runs and were never reprinted or reissued. So today it is very difficult to obtain them, and thus these works are mostly inaccessible to casual Lithuanian readers.