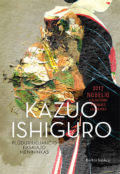 Original language:
Japanese
Translated from:
English
Authors:
Ishiguro, Kazuo
Translated by:
Žukaitė, Mėta
ISBN:
9786094792625
Published in:
Vilnius
Published on:
2019
Publisher:
Baltos lankos
"An Artist of The Floating World" is a novel about an artist named Masuji Ono and the post-World War II Japan. It is the time of changes and when the narrator Masuji Ono meets people with different mindsets and opinions than his. The book is written very delicately and mixes both the artist's past, before World War II and the present world. Kazuo Ishiguro focuses on topics like differences of generations, memory and forgiveness.
Masuji Ono is the main character and narrator of this book. He is a retired artist who is very famous in Japan for his works, however, now the man is only taking care of his home and garden along with his unmarried daughter. Msuji Ono is visited by his married daughter and her son quite often so, in the book we get a lot of family type of conversations, especially, about the younger daughter and her marriage prospects. The reader is absorbed into the artist's life and his memories. However, the man hides many things from his past, therefore, the reader must learn how to read between the lines and not trust the narrator fully. Even though Masuji Ono is a much respected man this does not mean that younger generation does not criticize his generation's past or even him. Masuji Ono is criticized for his nationalistic works and getting involved into politics.
This book manages to transport you to the time after World War II Japan and introduces to Japanese culture and society. One thing you must not forget while reading this book is to read between the lines and try to find out the secrets of Masuji Ono.
Kazuo Ishiguro- one of the most well-known authors of the modern literature. Winner of the Nobel Prize in Literature, in 2017.