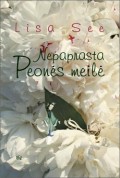 Original language:
English
Translated from:
English
Authors:
See, Lisa
Translated by:
Banelytė, Antanina
Full translated source bibliographical description:
See, Lisa. Peony in Love. New York: Random House, Inc., 2007.
ISBN:
978-5415-02-059-1
Published in:
Vilnius
Published on:
2008
Publisher:
Vaga
"Peony in Love" is set in 17th-century China around the delta of the Yangzi river. "Peony in Love" emphasizes the difficulty 19th- and 17th-century Chinese women had in achieving freedom and identity in a society that was both male dominated and rigid in its gender expectations. This novel is abundant in historical facts, as well as old Chinese customs ir traditions. Author introduces the readers to Chinese foot binding custom, wedding traditions, burial ceremonies and impact, that the belief in afterlife has on Chinese culture. The writer also presents an evaluation of the upheaval of the 17th-century, when the Manchus overthrew the Qing Dynasty. She tells a story of turmoil in the country and the heroic self-sacrifice of women in the fight against the Manchus, as well as women\'s creative prosperity.
The new novel is based on a true story of three lovesick maidens of Hangzhou, who were married to the same man. The three maidens of the novel were Chen Tong (Peony of the title), Tan Ze, and Qian Yi, all mentioned in the book by same names, together they wrote a commentary of a famous Chinese play, "The Peony Pavillion". "The Three Wives' Commentary" was the first piece of literary criticism written by women ever to be published in the world.
In Peony in Love the opera "The Peony Pavilion" by Tang Xianzu, "The Three Wives' Commentary" on The Peony Pavilion, and the theme of love all play important roles. In the novel see explores different aspects of love: gratitude love, pity love, respectful love, romantic love, sexual love, sacrificing love, duty love, and mother love.
According to Lisa See, her novel is ultimately about universal themes: the bonds of female friendship, the power of words, the desire all women have to be heard, and emotions that are so strong that they transcend time, place, and perhaps even death.
"Peony in Love" is the fifth of Lisa See's novels. Lisa See was born in Paris February 18, 1955, but has spent many years in Los Angeles, especially Los Angeles Chinatown, with her father's family. Her Chinese-American family has had a great impact on her life and work.