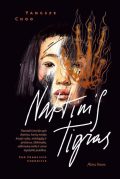 Original language:
English
Translated from:
English
Authors:
Choo, Yangsze
Translated by:
Kupčinskienė, Irena
ISBN:
9786090143834
Published in:
Vilnius
Published on:
2021
Publisher:
Alma littera
"The Night Tiger" is a work of historical fiction, which is full of elements of fantasy and magic, a story shrouded in mystery and intrigue, which tells about trustworthiness, righteousness, wisdom, benevolence and propriety. These five virtues of Confucianism intertwine with the destinies of the people and cause considerable confusion in the quiet lives of the book characters.
The clever and enchanting protagonist Ji Lin works as a tailor because in the 1930s in colonial Malaysia women did not have much chance of reaching great career heights. The young girl has a secret – she works in the dance hall in the evenings to pay off her mother's mahjong debts. One evening of this work, Ji Lin's dance partner accidentally leaves a terrifying and mysterious souvenir – a dried finger. With the help of a stepbrother, the girl will try to figure out all the confusing secrets that lie behind one cut off finger of a man. This accident begins a mysterious and breathtaking story about the search for the identities of the people associated with their destiny. At the same time, the 11-year-old boy, Ren, faces a difficult challenge – he needs to fulfill the former owner's dying wish – within 49 days, Ren must find and bury the master's finger in his grave. Otherwise, the soul of the boy's master would remain forever wandering among the living, unable to move on to the afterlife.
Forbidden love, secrets, intrigues, detective concept, and Chinese wisdom create a special atmosphere in this book. The story is surprisingly engaging, the storytelling is intriguing enough to make one devour the whole book in one go and the characters' feelings and experiences allow the readers to become a part of "The Night Tiger".