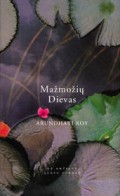 Original language:
English
Translated from:
English
Authors:
Roy, Arundhati
Translated by:
Žalytė, Danguolė
ISBN:
978-609-01-0888-8
Published in:
Vilnius
Published on:
2013
Publisher:
Alma littera
The novel takes place in Ayemenem, Kerala, India. The plot centers on Estha and Rahel, fraternal boy and girl twins living with their divorced mother, Ammu, and her family. The central events of the novel involve the fateful visit of their cousin Sophie-Mol, and her mother Margaret-Kochamma. We learn at the beginning of the novel that there will be an event that will a huge impact on the main character's lives.
A lot of attention in the novel is given to India's caste system. The biggest conflict of the story happens because of a forbidden love between Ammu and the Untouchable Velutha. A. Roy also talks about racism, religious discrimination, India's politics, history and the importance of preserving the nation's culture.
The God of Small Things is a charming and wise tale that fascinates with simplicity and the unknown of the exotic India. The novel makes one think about how even the smallest things can have a huge impact on our lives.
"Anything can happen to anyone. It's best to be prepared."
Arundhati Roy was born in 1961 24th of November in the Shillong province of Meghalaya, India. She spent her childhood in Ayemenem, Kerala, graduated from an architecture college in Delhi. She started the half-autobiographic novel The God of Small Things in 1992 and finished writing it in 1996. A. Roy has written and continues to write articles and essays about India's politics, globalization and the war with Iraq. In 2004 the author was awarded the Sydney peace prize. Currently lives in Delhi.