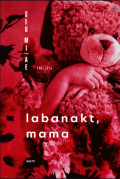 Original language:
Korean
Translated from:
Korean
Authors:
Seo, Mi-Ae
Translated by:
Šiaučiūnas-Kačinskas, Martynas
ISBN:
978-609-487-063-7
Published in:
Vilnius
Published on:
2020
Publisher:
Balto
Author's Seo Mi-Ae thriller "The only child" tells a story full of tension, which makes readers rethink if they really know the people surrounding them as well as they thought.
The main character Seonkyeong is a specialist of criminal psychology. This woman runs into the most dangerous criminals of South Korea on a daily basis and tries to investigate what causes the changes in criminals' mind that they commit such cold-blooded crimes. Seonkyeong's profession could be viewed as intriguing and fascinating from the first sight. Seonkyeong's students at university are also fascinated by their teacher's profession. They even call her Clarice comparing her to a character in a famous book called "The silence of the lambs" which also was working with the psychology of the criminals. One day Seonkyeong gets a call from the chief of Security Management Division from Seoul prison. He informs the woman that one of the most dangerous inmates currently serving their time in the prison Yi Byeongdo has expressed his desire to speak to her. Yi Byeongdo is a serial killer, which has cruelly murdered many women, although no one knows the real number of victims. The murderer has never shown any will to reveal the details about where the bodies of victims are hidden or the motives of his crimes. Yi Byeongdo's expressed desire to meet with Seonkyeong has provoked many questions: why the killer wants to meet with her, what does he want to tell to the psychologist and in general does he know about Seonkyeong. They have never met before and Seonkyeong has never worked with other inmates in the prison where he is staying until his death. She tries to get the answers to all of these questions during their consultations. Red apple quickly becomes a symbol of their interactions.
At the same time, Seonkyeong experiences a dramatic event in her personal life. Her husband brings home eleven-year-old daughter from his first marriage. The girl during her short life has already experienced more than the majority of adults. The divorce of parents, the death of her mother a couple of years ago and currently a fire that broke out at her grandparents' house and took their lives. These experiences has really traumatized the girl and affected her personality. Thus, it is very difficult for Seonkyeong to communicate with her.
The two challenges that have appeared in Seonkyeong's life has affected her career and personal life. Soon enough she realizes that the two people, which have changed her life and seemed completely different from the first sight, are more similar than she thought.
Seo Mi-Ae is a famous South Korean author of the modern era. She has written many books, which are well known internationally. The book "The only child" has been released in many countries around the world. Also, the screening of the novel currently is being filmed.