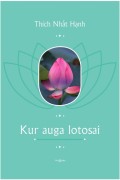 Original language:
English
Translated from:
English
Authors:
TNhất Hạnh, Thích
Translated by:
Grenda, Vytautas
Full translated source bibliographical description:
Thích Nhất Hạnh, No Mud, No Lotus: The Art of Transforming Suffering, Parallax Press, Canada, 2014
ISBN:
978-609-466-141-9
Published in:
Vilnius
Published on:
2014
Publisher:
Tyto alba
Thích Nhất Hạnh- one of the most famous Zen Buddhism teachers, states that, "Most people are afraid of suffering. But suffering is a kind of mud to help the lotus flower of happiness grow. There can be no lotus flower without the mud". His books are highly valued and often read of people from all over the world. New this writer work \"No Mud, No Lotus: The Art of Transforming Suffering" will motivate and inspires, helps readers understand their suffering and to learn to live with it. …This is precisely what is the main idea of this book: if you want to be happy you must learn to accept suffering.
In the book \"No Mud, No Lotus: The Art of Transforming Suffering" you can find all the path that man must suffered to felt tru happiness in his life. You don't have to refuse your suffering, instead you should try to become friends with it and then learn how to live in a world where everything is not paved with roses. In the first part of the book Thích Nhất Hạnh teaches how to be greeted, careful analysis and facilitate their suffering. Initially, reading this book writer thoughts appears to be unusual and incomprehensible. How can you be friends with your suffering? When I finished reading first chapter I decided to look into myself and try to understand my suffering. I focused on the spiritual world. When I turned off the TV, stoped chating my friends and eating I finally felt relieved. I faced with suffering and then I felt courage ant joy. In the second part of the book author presents us with the eight happiness practices. After reading this chapter people starded to apply these practices in their life. They are starting to breathe as Zen Buddhism teacher taught, be reflected, relaxed and they begins to see the different kind of world- full of miracles and happiness. The most interesting happiness practice for me is love meditation. This is a way of raising awareness, love and compassion, when you take a closer look into yourself and then into surrounding people. \"Love- is to accept ourselfs as what we are indeed.": said Thích Nhất Hạnh. I was very impressed by the book. It is relatively easy to read, there was no hard-understanding, scientific words so it would be interesting to read for all, no metter how old are you.
\"No Mud, No Lotus: The Art of Transforming Suffering" really affected me in the right way. I changed attitude to the world, I starded to pay attention to the small things that provides happiness, and most important I accepted my suffering. I think this book helped many people o find there own way to true happiness. I suggest to read this special book for everyone and analyze it.