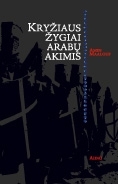 Translated from:
French
Authors:
Maalouf, Amin
Translated by:
Žalgaitė, Jūratė
ISBN:
9955656352
Published in:
Vilnius
Published on:
2006
Publisher:
Aidai
In his writing, Lebanese author and scientist Amin Maalouf analyzes topics related to migration, war and history. Civil war escapee to France, shares his experience as well. Nevertheless, A. Maalouf's first historical novel ''Crusade Through Arba Eyes'' remains his most popular and significant book.
While taking a stance of unbiased observer, author writes about crusade in The Middle East in the XII – XIII centuries. Contrary to usual European narrative, events during this period are represented through easterner's perspective. Despite cruelty, immorality and arrogance shown by knights on their expeditions, the author remains objective. According to historical sources, Arabs were criticized for debauchery, greediness, lack of solidarity while Maalouf noticed some similarities with Westerners as well. However, their actions instead of being honorable fight for Christianity and protection of holy places, were brutal killing of peaceful residents and destruction of Arab culture.
Whereas novel reveals more than hundred years of events, there are aplenty names of famous Middle Eastern and Western ruler's and soldier's names, locations of battles and cities, other explanations. Even so detailed historical descriptions do not make text boring and difficult to understand. Characters of this book intrigue with their strong and colorful personalities, while unpredictable outcomes of battles always surprise.
Amin Maalouf in historical novel ''Crusade Through Arab Eyes'' talks about Westerners' expeditions to The Middle East. Contrary to most literature on this topic, author speaks from the perspective of Arabs. According to remaining testimonies, fighters for religion worshiped in Europe executed atrocious annihilation of Arab culture.