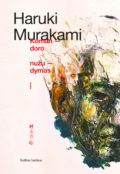 Original language:
Japanese
Translated from:
Japanese
Authors:
Murakami, Haruki
Translated by:
Enciūtė, Gabija
ISBN:
9786094792762
Published in:
Vilnius
Published on:
2019
Publisher:
Baltos lankos
"Killing Commendatore" is another master-piece of Haruki Murakami which takes us to yet another surrealistic world and fantastically written characters. This time it is a novel about a thirty-six year old painter who after a sudden divorce with his wife decides to run away from his past and current job as a portrait painter. He moves to the house that belongs to his friend's father, who happens to be a very famous Japanese Nihonga artist. We learn about the narrator's daily life and constant struggles as an artist.
Suddenly left by his wife the narrator packs his bag and drives to the North. After his trip around Japan he decides to return back but where. One call to a close friend and the artist found a new place to live, it is a Western style house in the middle of nowhere surrounded by nature. We get to know that this house belongs to a great artist Tomohiko Amada. Already after first weeks of living in this new place the narrator gets curious about the real owner of the house and his journey as an artist. Constant effort to find himself as an artist and get inspired leads him to one of the unpublished works of Tomohiko Amada, which the narrator finds in the attic. The fascination of this piece raises many questions and helps him find his own way.
Compared to other Murakami's novels this one starts pretty slow and stays normal for a really long time. The plot builds steady and once you reach the part of fantasy you get absorbed into it. Paranormal events create thrilling and unsettling feeling, however, this should not be new to old Murakami fans. The novel immerse you with interestingly written characters and secret behind the found painting in the attic.
Haruki Murakami- a Japanese author, one of the most well-known writer of the modern literature. Many awards winning author.