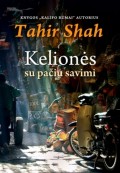 Original language:
English
Translated from:
English
Authors:
Shah, Tahir
Translated by:
Drazdauskaitė, Rasa
Full translated source bibliographical description:
Tahir SHAH. TRAVELS WITH MYSELF. Mosaïque Books, 2011.
ISBN:
978-609-466-099-3
Published in:
Vilnius
Published on:
2015
Publisher:
Tyto alba
"Travels With Myself" –  the book, which contains the most wonderful and colorful travel stories, written over almost twenty years:  impressions from Asia, Africa, Latin America and many other parts of the world, jungle, desert, small towns and mega-cities. Stories in this book are like stones collected on the beach. They are various forms, placed in random order and  written in different style, brought back from all over the world.
Tahir Shah wrote about people, places, things and events that have fascinated and inspired him. Whether it be woman waiting for the death penalty in America, thousands of residents of Cairo cemetery, portraits of the countries visited by the author, or the Western world items that languish in Moroccan antiques shops. Author remembers a man called Hisham collecting stamps, remarkable friendship in Morocco, the ghost sold in Essaouira, a famous collector of Quatar Sheikh Saud, closed clubs of Mumbai and dried human heads. However, this book is not just a trip into the depths of living history. Shah's texts are dedicated to Indian women who are forced to kill their own unborn daughters, Cambodian deminers widows, prosperous violence in Brazilian slums.
"Travels With Myself"- an adventure kaleidoscope, magnifying lens directed to the humankind, it's singularity and mundane. It is our living life beauty, grandeur and poverty reflection, it is an opportunity to travel together with a curious and educated fellow traveler; yet the most important thing is that after these trips all readers become wiser and a little happier.
Tahir Shah (born in 1996)  – English-Afghan origin writer, journalist and documentary filmmaker born in a noble Afghan family in London. In 2003, together with his family left United Kingdom and moved to Morocco, Casablanca, where they are still living in. Tahir Shah has written several travel books, documentary films created by him are shown on "National Geographic Channel" and "The History Channel".  A publisher "Tyto alba" published a couple of his books: "The Caliph's house", "Timbuctoo", "In Arabian Nights: A Caravan of Moroccan Dreams" and "Travels With Myself" in Lithuanian language.