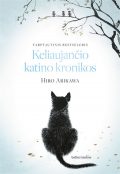 Original language:
Japanese
Translated from:
Japanese
Authors:
Arikawa, Hiro
Translated by:
Kriaučiūnas, Marijus
ISBN:
978-609-479-383-7
Published in:
Vilnius
Published on:
2020
Publisher:
Baltos lankos
"The Travelling Cat Chronicles" is an extremely sensitive story of human-cat friendship that reminds the reader of the beauty of life and emphasizes the values ​​of love and sacrifice. The wonderful adventure told in the book perfectly reflects the Japanese sincerity and the attention to detail inherent in Japanese literature.
The fateful meeting of protagonist Satoru and a wild cat Nana at the silver van changed their lives forever. And the accident brought the two friends even closer, who suddenly became inseparable. The once wild cat became a house cat and for some time happily lived in the apartment with Satoru. But one day Satoru starts packing his things and embarks on a long and exciting journey with his chosen one Nana, who does not care about the purpose of the trip and just rejoices in the company of his beloved person.
During the trip, Satoru visits his childhood friends and reveals various events that emerge from their deep memory. Visits to primary school friend Kosuke Savada, farm-born high school friend Daigo Yoshimine, and animal lover couple Sugi and Chikako help everyone overcome long-standing problems and conflicts together. But a story full of positivity and hope reminds us that not everything in life – whether you are a human or a cat – goes the way you want it to.
The novel is told from the side of the cat Nana, so it allows the reader to look at the story even more sensitively – through the eyes of an innocent animal dedicated to the owner. After this journey, there will surely be readers whose hearts were moved and maybe even readers who shed a heartfelt tear.
Hiro Arikawa is a popular Japanese novelist living in Tokyo. The novel "The Travelling Cat Chronicles" became an international bestseller and in 2018 a film was also produced.