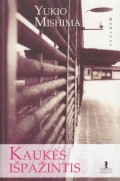 Original language:
Japanese
Translated from:
English
Authors:
Mishima, Yukio
Translated by:
Jomantienė, Irena
Full translated source bibliographical description:
Mishima, Yukio. Kamen no Kokuhaku. Vilnius: Versus Aureus, 2004.
ISBN:
9955-601-31-0
Published in:
Vilnius
Published on:
2004
Publisher:
Versus aureus
"Confessions of a Mask" is a debut work of a Japanese author Yukio Mishima, which shocked Japanese society with its' openness, sexuality, dramatic qualities and a topic which wasn't commonly discussed – homosexuality which became the main reason the novel became so popular and acclaimed by critics. "Confessions of a Mask" is still one of the best-known works by Yukio Mishima in Japan and all over the world. The story is told from the first person's point of view. The authortouches topics like development of one's personality, search of inner self, love and dissonance with outward world; main character's gains and losses, the sense of struggle, bravery and shyness, glorification of death and fear of it. The novel can be divided into three parts – main character's childhood, school years when he discovers his inclinations to homosexuality and affections to the girl, which he confuses with love. The novel is partly autobiographical, as it tells very openly about the author\'s gradual understanding about his own sexual orientation.
The main character discovers his predisposition to homosexuality and sadomasochism early in his adolescence years. He's aware that he is somehow "different" than other boys yet because of young age still unable to understand how, he is suffering because of his disparity. It was at that time that in order to look "normal" he creates the "normality" mask. However, he cannot fight against his own nature and falls in love with his classmate-boy, but even then he is still trying to fight his feelings. The key turning point in the book can be considered his meeting with Kusano Sonoko, his friend\'s sister, who awakened in him up till that point unknown feelings. Unfortunately, his body betrays him and he understands that he can love women only on a platonic level and cannot have any sexual relations with them. In the last pages of the novel, the author shows that the main character could not change as he was watching men instead of a beautiful ladies.
The novel author Yukio Mishima (real name Kimitake Hiraoka) (1925-1970) was a famous Japanese writer, playwright, actor and director. He has been nominated three times for the Nobel Prize for Literature. He died on November 25th, 1970 by committing a ritual suicide – seppuku.