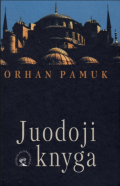 Original language:
Turkish
Translated from:
Turkish
Authors:
Pamuk, Orhan
Translated by:
Miškinienė, Galina
ISBN:
9986-16-01-428-1
Published in:
Vilnius
Published on:
2005
Publisher:
Tyto alba
"The Black book" is a Turkish piece of literature written in the 20th century. The book includes various themes such as mystery, the inside world of human being, elements of investigation as well as Turkish traditions. The author Orhan Pamuk creates personal conversations with the readers, which involve them into complicated and thought provoking story.
The novel tells a story about one family and the main character of Galip – a lawyer who lives in the middle of Istanbul. The everyday life of Galip has changed permanently when one day he finds a goodbye note from his wife Rüya. The love story between the main character and Rüya started in their childhood. After some time spent separately, they create a family together and live happily until one day Rüya goes missing. Quickly Galip realises that her brother Celal went missing as well. Celal is a famous Turkish journalist and his daily articles in the newspaper have become very popular. Galip has always had a fascination with Celal and has always been jealous of his success. Thus, the lawyer starts a search for his missing wife and her brother. He begins an independent investigation during which he talks to acquaintances, looks over the surroundings and tries to guess the timeline of events. Galip's fascination of Celal during this time becomes only stronger. He begins to collect articles written by Celal, later on he starts to live in his house and slowly takes over his life.
The author goes deep into human emotions and feelings, which appear after realisation that your loved ones are missing. What kind of psychological effects does a person experience when he gets so accustomed to one's role and starts to think and act as other person? Besides the main story the novel also includes various articles of Celal which hint to events in Galip's life.
Orhan Pamuk is one of the best-known Turkish writers. The author has received a Nobel Prize for his achievements in literature in the year of 2006.