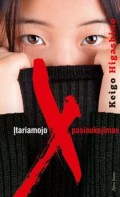 Original language:
Japanese
Translated from:
Japanese
Authors:
Higashino, Keigo
Translated by:
Polonskaitė, Jurgita
Full translated source bibliographical description:
Higashino, Keigo. Yogisha X No Kenshin. Tokyo: Bungeishunju Ltd, 2005.
ISBN:
978-609-01-1519-0
Published in:
Vilnius
Published on:
2014
Publisher:
Alma littera
The novel starts with the introduction of Tetsuya Ishigami and Hanaoka Yasuko daily life. Ishigami exhibits an extraordinary intelligence; he is a mathematician, who works as a teacher and a judo trainer in a local school. Yasuko is a mother of Misato, who escaped her abusive ex-husband. She finds new home and a job at Benten-tei restaurant. It seemed that life has got back into its track and they will finally be able to live a normal life. However, as if out of nowhere her ex-husband comes back and her life shatter leading into March 10th incident. The story is written consistently and there is a lot of focus given to time, place and details, which surrounds the characters. Ultimately, March 10th incident change everything into a battle of wits between two extraordinarily intelligent characters, in finding the truth of the incident. New characters are introduced and through their point of view and details presented from their past we learn to know them and become fond of. The whole story changes into a game of wits, where alibi is constructed and detective Shunpei Kusanagi is in charge of puzzling it out. In this whirlpool of game of wits, there are a lot of character mood changes, as well as extraordinary perception and unseen obstacles. Thus, it seems that detective Kusanagi comes closer to finding out the truth, but then again finds himself further away from March 10th incident.
We could say that there are six main characters in this story, although Ishigami is one of the two that has the most important role. He is closely related to the March 10th incident. In the course of the story another character is revealed, who is the other side of the coin. Both of the characters know each other from their past, during the game of wits, they seem to establish good relationship between each other in reminiscent of their past. Even so, the March 10th incident breaks them apart.
Only at the very end of the book the truth of March 10th incident is revealed. The author subtly outlined the events and gave a fair amount of detail. Thus, it seemed that the reader as well as the characters investigated the case are holding the answer in their hands, although the very moment of realization is far beyond what could have been expected. In such a way not only characters of the story are awestruck, but the reader is as well.
As mention, there is a lot of focus on the details in the novel, especially those related to the incident, nonetheless, there is also an abundance of detailed character behaviour, description of body language expressions and their personal insight on the world that surrounds them. Thus, "The Devotion of Suspect X", is not only a story about March 10th incident, but also it is an educational and encourages you to look at the world with different eyes.
Keigo Higashino (1958) is a famous Japanese writer, best known for his mystery novels. Throughout 2009-2013 he served as a 13th President of Mystery Writers of Japan organization. "The Devotion of Suspect X" is a third book of Detective Galileo series and his most acclaimed work. The novel won many literally awards, but most influential would be. The 6th Honkaku Mystery Award, which is one of the most prestigious awards in the mystery novels category in Japan. English translation was nominated for the 2012 Edgar Award for Best Novel and the 2012 Barry Award for Best First Novel.