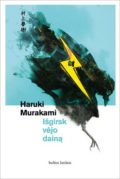 Original language:
Japanese
Translated from:
Japanese
Authors:
Murakami, Haruki
Translated by:
Čepulionytė, Gabija
ISBN:
978-9955-23-922-2
Published in:
Vilnius
Published on:
2017
Publisher:
Baltos lankos
This novel is about a 21 year old guy, who studies biology and came back home for summer holidays. Having a lot of free time leads narrator and his old friend called "Rat" spending a big portion of it in J's bar. There they just drink beer and smoke. The main character of the novel is quite a silent guy but he ponders about many different things. Most of his contemplations revolve around his three ex girlfriends, strange accidents, carnal love and his new friend who has lost one of her fingers.
I would not say that this book has seamless narrative, because the novel begins with a story of how the author has issues with writing the book and then later the actual story begins. From there the books narrative is quite consistent, with a few flashbacks to from his past. The book is mostly narrated in first-person.
The novel doesn't have a lot of characters. The main story revolves around the narrator and "Rat", but occasionally inserting J, who is the owner of the bar in which these two friends spend a lot of time, and the nine-fingered girl. In the beginning of the book, as well as the end, the author Derek Hartfield is mentioned. It was from him, that the narrator learned a lot about writing.
Haruki Murakami – famous Japanese writer and translator. He was born in Kyoto, but later moved to Tokyo. Studied in Waseda University. After he finished his studies, he and his wife opened a small jazz bar. Murkami started  writing when he was 29 years old. His first novel "Hear the Wind Sing" was published in 1979. This book won the Gunzo Award. One of the most popular novels of his are "A Wild Sheep Chase" and "Norwegian Wood". Nowadays, Haruki Murakami is considered to be one of the best still living writers.