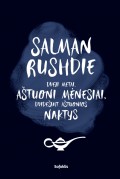 Original language:
English
Translated from:
English
Authors:
Rushdie, Salman
Translated by:
Žalytė-Steiblienė, Danguolė
Full translated source bibliographical description:
Salman Rushdie, Two Years, Eight Months and Twenty-Eight Nights, Random House, 2015
ISBN:
9786094441660
Published in:
Vilnius
Published on:
2015
Publisher:
Sofoklis
The novel reveals about the era of oddities that started in the twelfth century. At the exiled philosopher Ibn Rushd's doorstep appears jinn princess Dunia. She falls in love with the mortal philosopher and starts having his children, one after another. They all have a specific feature – they are born without earlobes. Many years pass since then. A crack appears in the universe during a storm in New York, letting in the destructive jinns that follow another twelfth century's philosopher Ghazali's will. Ghazali thought that fear can make people turn to God. His and Ibn Rushd's, who tried to collate mind and faith, conflict is one of the significant disparities that structure the book. Having the crack between the two worlds open, jinn princess Dunia faces the destructive jinns in a battle and her descendants become her secret weapon.
The novel "Two Years, Eight Months and Twenty-Eight Nights" is full of allegories and surrealisms. It takes focus to read this book despite the fact that it is one of the most playful creations of Salman Rushdie. The book has very specific structure that partially explains the perspective of the story. However, it also stands in the way of conveying the story as well. The novel does not lack symbolism either. The title of the book is already symbolic itself. Two years, eight months and twenty-eight nights is thousand and one night. Symbolism and many layers of the story can sometimes prevent the reader from understanding the true sense of the words. "Two Years, Eight Months and Twenty-Eight Nights" is about the contrast between the East and the West, globalization, tolerance, and religion. Religious fanaticism is one of the main subjects of the book.
A compelling layer of the novel is the intersection of the East and the West. The destructive jinns and the chaos, fear and even massacre they sow can be interpreted as the threat of terrorism in the West. The chosen mythological figures of the book clearly indicate the region that poses the threat to the Western countries. The threat is linked not to a particular culture or religion, but rather with blind fanaticism.
Salman Rushdie is a British-Indian novelist and critic best known for his second book "Midnight's Children" for which he received the Booker Prize. He is often considered to ascribe to magic realism.