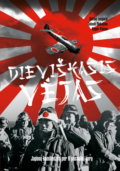 Original language:
2019
Translated from:
English
Authors:
Inoguchi, Rikihei, Nakajima, Tadashi, Pineau, Roger
Translated by:
Venckevičius, Norbertas
ISBN:
9789955266907
Published in:
Vilnius
Published on:
2019
Publisher:
Briedis
During World War II, Rikihei Inoguchi, Tadashi Nakajima and Roger Pineau fought on different sides of the barricades. However, after its end they were brought together by a special kamikaze, or otherwise, shimpu squad, formed by the Japanese army in 1944. The unprecedented tactics of modern warfare have caused both the world's admiration for determined and dedicated pilots, and sadness for the many lives lost. In the book ''The Divine Wind. Japanese kamikaze during World War II'', commented on by American historian R. Pineau, and written by captains R. Inoguchi and T. Nakajima, who contributed to the formation of the kamikaze squad, share their memories.
The authors, who also witnessed these events, explain the reasons behind the decision to form a special kamikaze squad, the moods and feelings of young pilots and their commanders, their living conditions, preparation for the task, and the last soldiers' letters to their families. The book devotes a great deal of attention to the portrait of the first kamikaze platoon leader J. Sekis and his experiences. Although he, like all other special squad pilots, was determined to fly of his own will, the soldiers' determination subsequently fluctuated. It happened a year later, in 1945, when talks of the pathetic state of the Japanese imperial army spread, and one could make sense in sacrificing their lives. However, the pilots were sent off anyway, under the command of vice admiral T. Onishi, known as the kamikaze father. To describe the latter's life at this difficult time, the authors devoted much of the book.
In the book, vivid images of aerodrome getting bombarded, passionate eyes of the pilots, who just learned their fate, and the teary face of the vice admiral, emerge. The authors' detailed descriptions of events, personalities and conversations leave no doubt in their testimony. Official war data and photographs also provide persuasion. However, the reader is not overwhelmed by facts and dates, and the narrative itself resembles a work of fiction rather than a historical document.
The book ''The Divine Wind. Japanese kamikaze during World War II'' is a testimony of the formation of a special kamikaze platoon. Here the reasons behind this decision, the participants' experiences and their letters are disclosed. Along with aplenty factual material, the book provides some interesting insight into this unprecedented tactic.