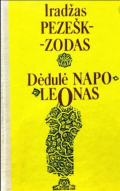 Original language:
Persian
Translated from:
Russian
Authors:
Pezeshkzad, Iraj
Translated by:
Ferensienė, Goda
ISBN:
470300000006816487
Published in:
Vilnius
Published on:
1987
Publisher:
Vaga
Iraj Pezeshkzad tells a story about a life of a non-traditional family during the World War II in Teheran in a book called "My uncle Napoleon". This comical novel is very charming and full of funny dialogs as well as interesting stories. This book also views the Muslim culture and daily life in a non-traditional way.
The book tells a story about a life of one wealthy Iranian family. The main storyteller is a teenage boy, who has fallen deeply in love with his neighbour and a family member Leila. A young man tells various stories about his family's daily life. The main character of his stories become his uncle Uncle Napoleon. Uncle Napoleon is indeed an extraordinary person. Earlier in his life he was working in a gendarmerie, were he used to catch local criminals. Although now he is retired, he still lives with combative spirits. Uncle Napoleon is a big fan of the famous French military leader Napoleon Bonaparte. He admires his achievements and in his head, he identifies himself as the French military leader. He imagines himself bravely fighting in Iranian wars in his own little world that he has created. The personality of Uncle is also very warlike. He is ambitious, angry person that does not agree to any compromises. He shares his war experiences, future plans and tactics with his loyal servant Mash-Kasem, which always agrees with Uncle's fantasies. Many other charming and interesting characters appear in the book. Among them are not only family members, but other acquaintances too. Such as the funny uncle Asadola-mirza, family member Gamara, which has a mental disability, uncle Colonel and other interesting characters.
The book ironically talks about the life of patriarchal Iranian aristocrats. The author comically describes the life of the nobility, which is full of ambitions and vanity. This kind of stand is ironical considering the fact that the author is also from aristocratic family. The book also reveals various aspects of Iranian culture, which allows the reader to get to know the Middle East region a little bit better.
Iraj Pezeshkzad is a well-known Iranian author of the second half of the 20th century. The author has written many various novels, however his most popular piece is his famous book "My uncle Napoleon". A famous TV show was also filmed as a screening of this story.