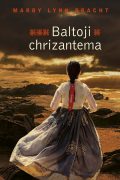 Original language:
English
Translated from:
English
Authors:
Bracht, Mary Lynn
Translated by:
Kapočiūtė, Anita
ISBN:
978-609-480-063-4
Published in:
Vilnius
Published on:
2019
Publisher:
Lietuvos rašytojų sąjungos leidykla
"Comfort women" are little girls and women, who were forced to be sex slaves by the Imperial Japanese army. These events occurred during World War 2 in Japan occupied countries. the name of "comfort women" is translated from the Japanese word ianfu (慰安婦).
"White chrysanthemum" is written by Korean-American writer Mary Lynn Bracht. Although the author now lives in London, she grew up in the United States, in a large community of Korean emigrants. After a 2002 visit to a South Korean village where her mother grew up, and the first time she heard of "comfort women," the writer decided to depict their life endured in slavery. The novel is based on the history of Japan, Korea and "comfort women". The book uses fictional events, characters, places and names. The action of the novel intertwines between the perspectives of two sisters. The time zone is divided between Emi's life in 2011 and Hana's living in the 1940s.
The novel begins with the perspective of Hana, in 1943 in Jeju Island, Korea. The sixteen[1]year-old girl lived all her life in a Japanese-occupied country. Hana is a haenyeo, also known as a diver in search of seafood. The girl can enjoy freedom until the day she encounters a Japanese soldier. To save her sister from the soldier, Hana sacrifices herself and is forced to become a "comfort woman". Further events reveal Hana's experience as a "comfort woman".
The next action in the novel takes place in 2011 from Emi's perspective. The woman has been trying to forget her sister's sacrifice for more than sixty years. To discover inner peace and come to terms with guilt, Emi looks the past straight in the eye. Emi's perspective includes not only her current life, but also memories from the wartime and all the experiences she endured during that time.
"White chrysanthemum" is a novel that affects readers and gives people the opportunity to learn about a part of Korean history. Mary Lynn Bracht perfectly reveals how the suffering experienced by Korean women to this day can shape the twentieth century people's lives