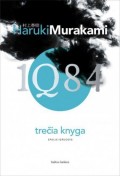 Original language:
Japanese
Translated from:
Japanese
Authors:
Murakami, Haruki
Translated by:
Susnytė, Ieva
Full translated source bibliographical description:
Murakami, Haruki. Ichi-kew-hachi-yon. Book 3. 10gatsu-12gatsu. Tokyo: Shinchosha, 2009.
ISBN:
978-9955-23-482-1
Published in:
Vilnius
Published on:
2011
Publisher:
Baltos lankos
"1Q84. Book 3" is the last book of the trilogy. It continues to tell the story of Tengo and Aomame and the reader finally gets the answer the the main "Q" – as in "question" – will the two main characters meet?
The first noticeably surprising thing is the change in story-telling. Previously told from Tengo's and Aomame's points of view, they're accompanied by Ushikawa, the private detective working for Sakigake, previously introduced in earlier books. Will he be able to find Aomame whom, helped by Tamaru, is in her hideout, tortured by thoughts of changing her identity or even suicide? Or maybe Ushikawa's actions will influence the long awaited meeting of the leads?
Murakami keeps the musicality and intellectuality in his books, inserting elements of both. The melancholy and loneliness, distinctive trait of Murakami's characters, prevails. He professionally created the tension building it up without any rush and keeps the dark atmosphere. It is undoubtedly the main ingredient of the book – the action builds up really slowly, overflowed with profound conversations and deep dialogues. Murakami is attentive to details here, he decorates the base and the walls of the novel, built in previous parts of the trilogy.
The link to George Orwell's "1984" is carefully kept. Philosophical topics of stalinism or Hitler remain, at points the reader can detect slightly expressed character's (or author's) opinion of the book or the condition of the world back in the day. Murakami creates a parallel with Orwell's and 1Q84's world.
The erased boundaries of time and space creates the mystical illusion of being lost, just like the characters in the book. There's no distinction between year 1984 or 1Q84, just the two moons in the sky. The "Air Chrysalis" becomes a metaphor of separating a soul in two pieces – Tengo and Aomame – and the culprit is The little people.  The duality of this whole book creates an unbreakable belief of two worlds in whom there's no place for doubt. The question is – in which world it is possible for Tengo and Aomame to meet?
All in all, Murakami keeps the mystery and leaves some questions professionally and thoughtfully unanswered on purpose – he betrays the reader and leaves him hungry, so the imagination could create an explanation instead of him.
This book is one of the strangest ones of this author, yet the style of his is well-preserved. The three books act as each own and a unity all-together, and the time goes in different speed in each one. Mystical, romantic – that's how one can simply describe this not traditional detective of Murakami's, which is a masterpiece.