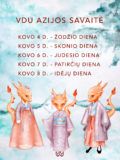 Date and time: 2019-03-04 13:00 - 2019-03-08 19:00

Location: Kaunas, Lietuva

The Centre for Asian Studies (CAS) at Vytautas Magnus University together with the students' clubs "Hallyu", "Hashi" and "Wu Wei" invites Kaunas residents and city's guests to the VMU Asian Week 2019. This year the event will take place on March 4-8 in venues of VMU and other public places in Kaunas.
VMU Asian Week is a one week-long cycle of events dedicated to East Asian countries – China, Japan and Korea. It is done through the presentation of specific aspects of culture, arts and cuisine. CAS social partners in Lithuania actively participated in the organization of this event.
Events organized last year were a great success and attracted a lot of attention from the general public and media. You can see the moments from the previous Asian Week here.
The partners of VMU Asian Week are: Global Japan Office, Hiroshima University Lithuanian Centre.
Sponsors: Embassy of Japan in Lithuania, Embassy of the Republic of Korea in Poland, Embassy of the People's Republic of China in the Republic of Lithuania, Korean Culture Centre in Warsaw, Confucius Institute, Korean Community in Vilnius, Restaurant "Metropolis", etc.
More detailed program (time and place) will be presented soon. Follow our Official and Facebook pages.