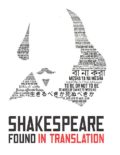 Date and time: 2017-10-26 17:00 - 2017-10-26 19:00

Location: Vilniaus universiteto Orientalistikos centras, Universiteto g. 5

This lecture takes a brief look at how Shakespeare has been performed and adapted in the Islamic world and if there is a post-colonial residue relating to him and his work.
It takes a further look at attempts to colonize Shakespeare' works prior during and post Nazi Germany using the Merchant of Venice as its yardstick, and ends by challenging traditional performances and adaptions of this play concluding that Shakespeare wrote it as a most powerful play against hypocrisy, colonialism, racism, and anti-Semitism and places Shylock as not just a hero but as a ideal and noble human in the Shakespearian tradition – A Shilloh – while Portia is positioned as Portiago.
Biography: Writer, painter and lecturer at the Oxford University Orde Levinson, lives and works between Oxford and the Luberon Valley, Provence. A practicing painter and writer, his books including poetry, plays, critical analyses, and artist compendia. His open, free flowing 'in conversation' projects include with Henry Moore the philosopher Professor Sir Richard Sorabji. His collection of poetry was praised by Samuel Beckett as "a moving feat" and his play based on the life of John Muafangejo premiered in the National Theater of Namibia for Independence. He has directed the Merchant of Venice. He mostly prefers working parties to cocktail parties.