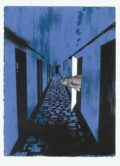 Date and time: 2018-04-06 17:00 - 2018-06-10 12:00

Location: M. K. Čiurlionio memorialinis muziejus, M.K. Čiurlionio g. 35, Druskininkai

The idea of ​​the exhibition is to reveal the range of wood carving opportunities and to show the variations of ancient graphic art techniques in today's art. The project partner Kyoto International Wood Print Association (KIWA) has provided the opportunity to get acquainted with Japan's contemporary xylography. For the first time in Lithuania, the exhibition presents modern wood carvings which allow to get acquainted with unique features of mokuhanga woodcarving technology developed in Japan: water-based paints are used, the printing is processed on a special hand-made paper washi, and no press is applied.
Sixteen exhibition participants represent different generations of Japanese artists who show thematically different works revealing distinctive artistic stylistics. A colourful and varied panorama of the contemporary Japanese wood print reflects full freedom of the artistic creation.
Participants: Chiaki, Konomi Honda, Natsuko Katahira, Harue Katsuyama, Masanori Katsuyama, Chie Kawabata, Akira Kurosaki, Eimei Machida, Keiko Mikami, Shinsuke Minegishi, Yasuko Onishi, Kyoko Sakamoto, Kayako Shimizu, Richard Steiner, Kanako Watanabe, Nobuko Yamasaki (Japan).
Curators: Richard Keith Steiner (Tosai) – president of Kyoto International Woodprint Association (KIWA) and founder of Kyoto International mokuhanga School, and art historian Regina Urbonienė.
Idea and management: Eglė Bertašienė.
Organizers – Institution Meno dalis and Kyoto International Woodprint Association.

Web link: http://www.ciurlionis.lt/index.php?mact=Calendar,cntnt01,default,0&cntnt01event_id=1400&cntnt01display=event&cntnt01lang=lt_LT&cntnt01detailpage=379&cntnt01return_id=57&cntnt01returnid=379#f
Partners and sponsors:
Partner – Embassy of Japan in Lithuania.
Sponsors – Lithuanian Council for Culture and Ministry of Culture of the Republic of Lithuania, BMK Publishing House, BMK Copie Centre, Company Dekbera, Company Upartas, Mrs. Kristina Mekšrūnienė.