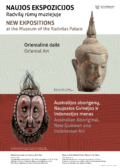 Date and time: 2017-11-20 - 2017-12-31

Location: Radvilų rūmų muziejus, Vilniaus g. 24, Vilnius

The new Oriental art exposition presents the most valuable visual and applied decorative art works from many Asian countries featured in the Lithuanian Art Museum's collections, along with the numerous donated works that have significantly enhanced this exposition from the collections of Dr Genovaitė Kazokienė (Australia) and the family of émigré art patron and philanthropist Leonas Maskaliūnas (USA). The exposition is especially enriched by traditional Chinese landscape masterpieces from the Vilnius Bernardine's collection: works by the most famous early Chinese artists Shen Zhou (1427–1509) and Yun Shouping (1633–1690).
The exposition reflects the amazing variety and vitality of East Asian applied art traditions – artistic techniques discovered centuries ago remain popular even today. This is evident in the bronze sculptures of deities, incense holders, an ancient lacquer and inlay decorated screen, a natural silk hand-knotted rug, colourful metal works from Chinese workshops decorated using the compartment enamel (cloisonné) technique; the noble beauty of vases from the home of porcelain, China, produced in the 19thcentury and decorated with unique cobalt blue underglaze painting – a unique technique discovered in China in the Tang Dynasty period (618–907); opulently painted, gold-plated Satsuma vases and bright coloured enamel decorated imari porcelain stand out among the Japanese ceramic works. Relatively unknown in Lithuania, art from South East Asia is represented by the virtuosi wood carvings created by masters from the island of Bali inspired by mythological Hindu images and subject matter, and by traditional Thai carvings and canon sculptures used in religious Buddhist practice, among which is an 18th-century bronze head of Buddha from Thailand: the enlightened gently smiling face seems to radiate wisdom, tolerance and the promise of harmony. Some examples of Islamic art are also on display. These include elaborate metal teapots decorated with refined geometric and plant motif ornaments from the Near East, and works decorated using the khatam marquetry technique widely used in Iran since the oldest times.
Web link: https://www.ldm.lt/rytu-azijos-naujosios-gvinejos-ir-australijos-aborigenu-menas/