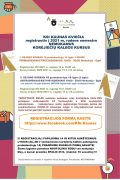 Date and time: 2021-09-13 18:00 - 2021-12-30 19:30

Location: Vytauto Didžiojo universitetas

여러분, 잘 지냈어요? 많이 보고 싶었어요~!
KSI KAUNAS is back after summer break and is finally starting the registration for Fall semester 2021. All courses are FREE OF CHARGE, levels 1A and 1B will start on September 13th and 14th and will be held offline. All the other levels will start classes from the 25th of October online.
Please read the notice carefully, register and we hope to see you soon in Korean class!
SEJONG KOREAN 1A (beginner 1A level)
https://forms.gle/gYniL2UryP2pqcP56
SEJONG KOREAN 1B (beginner 1B (second) level)
https://forms.gle/NsYX6QbhLosjgx9m9
Web link: https://www.facebook.com/KSI.Kaunas/photos/a.422600728264556/1162483510942937