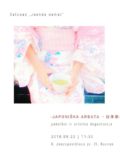 Date and time: 2018-09-22 11:30 - 2018-09-22 15:00

Location: Salonas Jaukūs Namai, Juozapavičiaus pr. 21, Kaunas

Dating back to Ancient China, green tea is popular all over the world for its exclusive taste and health benefits.
In Japan, the green tea culture and traditions are especially unique. Aside from the most famous matcha tea, which is used during the tea ceremony, numerous kinds of green tea are produced in Japan, renowned for the vivid green color and mild, sweet aftertaste. As the world is becoming more and more busy, cold green tea is also sold in plastic bottles alongside with the traditional way of serving it in a cup.
This Saturday, we kindly invite You to our cosy boutique "Jaukūs Namai" to know more about the profound green tea traditions in Japan and feel its special taste yourself!